This is What the Nikon D810 Looks Like After Burning Man
Nikon claims its pro-grade D810 DSLR has "superior" and extensive weather sealing that helps keep moisture and dust out, but that doesn't mean you should treat it as being dust-proof. The camera above shows why. It's a Nikon D810 that was taken to Burning Man.

Roger Cicala over at LensRentals writes that the camera was rented out to a Burning Man attendee, and that the 9-day gathering in the harsh Nevada desert does horrible things to even high-end camera equipment if you don't take steps to protect against the elements.
Here are two more views of the camera's exterior after it was returned: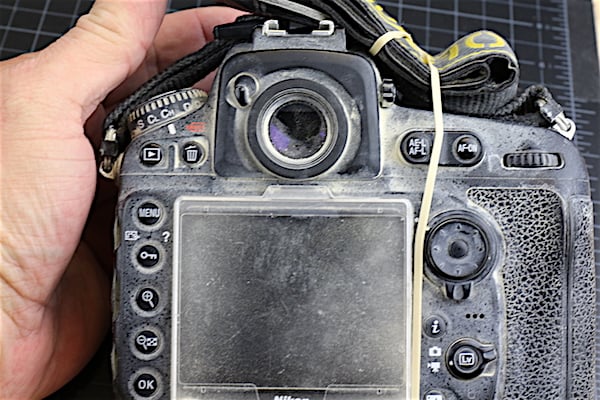 Sand can ruin the threads in lenses, causing them to never be smooth again, Cicala warns. And even if your gear can block most of the sand from entering, the small bits that do can still do big harm.
"Beyond the seals, inside the camera, there are loose dust particles that got through, but the vast majority was kept out," Cicala writes. "Overall, I'm impressed with how much dust did NOT get inside the camera. But there was still way more inside than was acceptable."
After a thorough inspection and cleaning of the camera, Cicala concludes that "some dust got in from every possible access."
So be warned: even if your camera is marketed as having extreme sealing against water, dust, and sand, you should still protect your gear when shooting in harsh environments. Even if you manage to clean off your dirty camera on the outside, nasty things might still have gotten into the body — things that could hurt your equipment and shorten its lifespan.
---
You can find a larger set of photos showing the interior of this Nikon D810 over on LensRentals.
---
Image credits: Photographs by Roger Cicala/LensRentals