Cafe Mocks Photographer Who Asked That Stolen Photo Be Taken Down
A cafe based in Dublin, Ireland, rubbed photographers the wrong way today by poking fun at a photographer who had requested credit for a photo used without her permission.

Back on August 12, the The White Moose Café posted a tongue-in-cheek post on Facebook about its "Bring Your Own Boob" policy, a €5 corkage charge for bringing your own breastmilk to breastfeed babies in the cafe — a joke, of course.
However, included in the post was a photo published by Brooklyn-based photographer Melina McGrew McConnaughy and used without McConnaughy's knowledge or permission. McConnaughy then sent the cafe a private message, explaining that the photo is copyrighted and requesting that it be deleted from the post.
Instead of deleting the photo and post (which has gotten over 3,900 Likes on Facebook), White Moose Café today published McConnaughy's message and a public response to her request. In a mocking tone, the cafe explained why she should be content with receiving a credit added to the original post.
"I am so silly. I thought that any images that are on Google, already there for the world to see, were completely free to use. My bad," Paulie of the cafe writes. "I can only imagine that you must have lost out on thousands if not millions of dollars worth of business by my not crediting you."
"You seem to be a master in the field of baby-sucking-tit photography," he continues. "[…] by way of an apology, I have credited you…"
While the new post has been popular with the cafe's fans, the majority of the top comments are from people defending McConnaughy: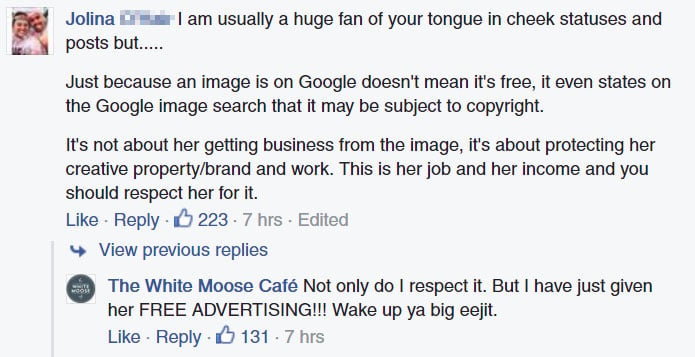 At the time of this article, both the original post and the response to McConnaughy are still up on the cafe's Facebook page.
---
Update: It seems that McConnaughy has responded with a review on the cafe's Yelp page:
---
Update: The cafe has posted another post in response to another message it has received from someone else regarding copyrighted photos:
…and in the comments of that post: