This Wedding Photographer's Custom Strap was Made from a Bison
David Clumpner believes in using renewable natural resources. So, in addition to being a professional wedding photographer, he's also an avid hunter, fisherman, and gardener. That explains the camera strap he now brings to weddings: it was custom-made using the skin of a wild bison killed in Gardiner, Montana.

Clumpner originally had the idea of having a skin turned into a strap while looking into the popular Money Maker camera strap by Hold Fast. Then, while browsing Facebook, Clumpner saw that his friend Leon, a Flathead Indian, was planning to attend the annual Yellowstone bison hunt.
"I offhandedly wrote something to Leon about not throwing the skin away and he replied asking if I'd like it," Clumpner writes. "I said of course, as wild bison skins are very hard to come by."
A week later, he drove over to Leon and picked up the skin. The skin had to be folded twice and reduced down to 25% before it could fit into the back of a truck:
"The thing with bison is that they are huge," Clumpner says. "I have killed deer, elk, and Shiras moose, but none compares to the size of this skin. It seemed like it was nine feet across in both directions. We folded it up and it required both of us to get it into the back of my truck."
Clumpner then spent $150 shipping a 143-pound tub containing the skin to Pergamena, a vegetable tannery in New York that tans single skins.
Here are some photos from the tanning process at Pergamena:
Once the skin was tanned and finished, Pergamena shipped the skin directly to Matt Swaggart, the man behind Holdfast.
Two months later, Clumpner's camera strap arrived in the mail, complete with custom bison skin and custom gold-colored hardware: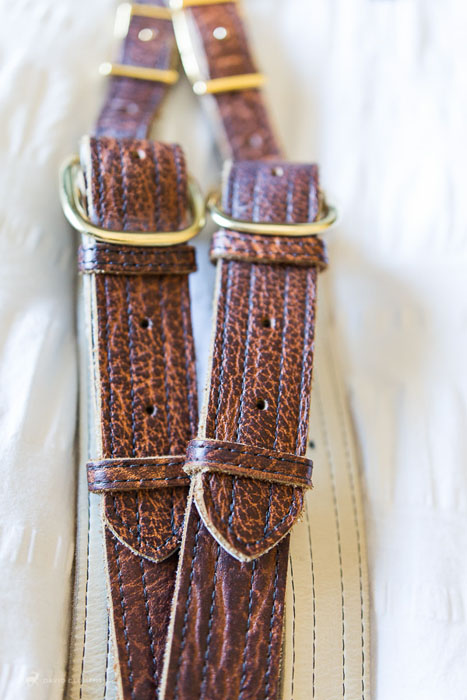 Here's what the strap looks like in action on Clumpner while shooting a wedding:
Clumpner says that he has made a few other things for his photography clients from the bison leather he had made, and that every part of this project, from animal to strap, was done by small businesses in the USA.
---
Image credits: Photographs by David Clumpner and used with permission