Huawei Slammed for Implying a DSLR Photo was Shot with the P9 Phone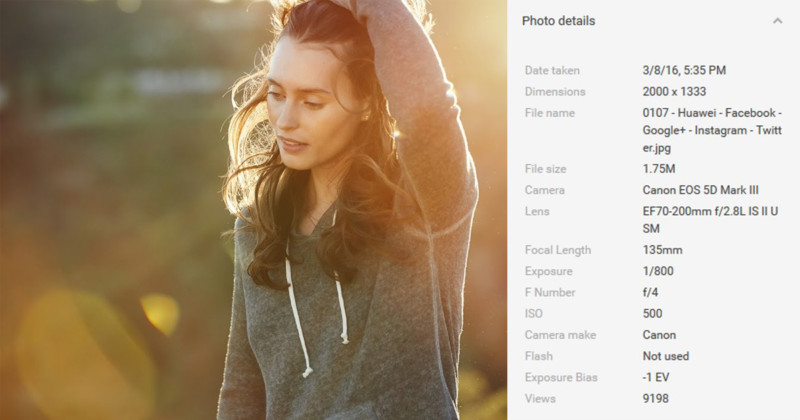 Ouch. In a bid to 'inspire their community,' Huawei posted a beautiful portrait to show what you could do with the Leica-engineered dual-cam P9 smartphone. There's just one problem… the photo was taken with a Canon 5D Mark III and a $2,100 lens.
The gaff was posted (and then quickly removed) from Huawei's Google+ page after Android Police posted about the mistake. Like Flickr, Google+ displays exif data for an image under "Photo Details." So when Huawei Mobile posted this photo:
It was accompanied by this info:
Camera: Canon 5D Mark III. Lens: Canon EF 70-200mm f/2.8L IS II USM. A combo that will cost you $4,700 through B&H as of this writing. Quite a bit more than the Huawei P9 smartphone and a setup that can capture images the P9 couldn't touch unless Leica has managed to upend the laws of physics when they "engineered" the P9's dual-camera setup.
To Huawei's credit, they didn't outright say the photo was actually taken with the P9. The caption reads:
We managed to catch a beautiful sunrise with Deliciously Ella. The #HuaweiP9's dual Leica cameras makes taking photos in low light conditions like this a pleasure. Reinvent smartphone photography and share your sunrise pictures with us. #OO
But the implication was enough to get them in some serious hot water, prompting the company to quickly remove the photo and release the following statement, published by The Verge:
It has recently been highlighted that an image posted to our social channels was not shot on the Huawei P9. The photo, which was professionally taken while filming a Huawei P9 advert, was shared to inspire our community. We recognize though that we should have been clearer with the captions for this image. It was never our intention to mislead. We apologize for this and we have removed the image.
Honest mistake? Maybe. But it does make one question all of the sample photos released by Huawei thus far (even the really cool, authentic ones).