Photoshop Updated with Face-Aware Liquify, Content-Aware Crop, and More
After teasing us with the magic that is Content-Aware Crop a few weeks ago, Adobe is finally ready to release that feature and a few more into the wild. Photoshop CC 2015.5 is officially here, and it's got a few tricks up its sleeve.
The newest version of Photoshop CC comes with a couple of speed and performance improvements like we see in most updates—this time it's a 3x performance improvement when working with fonts and Content- Aware Fill features. But beyond that, there are three new features you need to know about: Content-Aware Crop, Face-Aware Liquify, and the Selection and Masking Taskspace.
Let's take them one by one.
Content-Aware Crop
If you haven't been reclining beneath a shady rock recently, you've already heard of and probably seen this feature in action. As the name suggests, this much-requested feature brings Content-Aware technology to the Crop tool.
Basically: it lets you crop outside the lines by intelligently filling in any empty space you create. This lets you straighten crooked photos without losing precious bits of your image, or simply expand the canvas you're working with.
So you can go from this:
In a couple of simple steps:
To this: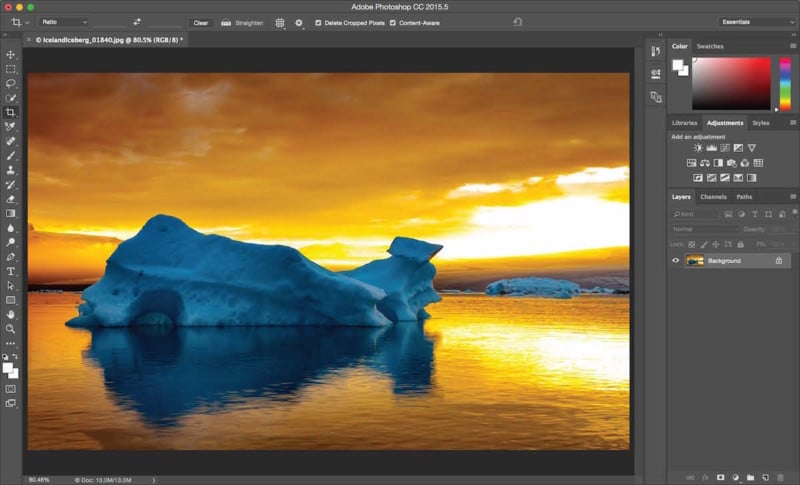 Here's a new demo of the tool in action:
Face-Aware Liquify
Another feature that describes itself quite well, Face-Aware Liquify brings facial recognition to the Liquify tool. When you're using the Liquify tool, Photoshop will now automatically detect the faces in your photo and allow you to alter both individual features and overall facial shape without affecting the rest of the image.
The eyes, mouth, nose, and overall structure of the face are all automatically selected and fair game:
You can also use Face-Aware Liquify to comical effect, as Adobe was kind enough to demonstrate for us below:
Selection and Masking Taskspace
Last but not least (okay maybe least), the Selection and Masking Taskspace is a dedicated workspace that helps you make more precise selections and masks. All your edge refining and masking tools in one place so you don't need to jump around when you're doing these very common tasks in Photoshop.
Here's a demo:
One More Thing
The last sort-of-new-but-actually-old feature released in 2015.5 is the ability to use the Legacy Healing Brush. If you don't like the new Healing Brush introduced in December, you no longer have to go through any hoopla to use the Legacy brush: just go to Preferences > Tools and select the legacy Healing Brush.
---
Most of the other improvements in this release of Creative Cloud were more designer focused. For example, Adobe Stock was seamlessly integrated into the Creative Cloud workflow and a feature called Match Font was introduced, which allows you to identify the licensed fonts in any image by simply selecting the area around them. Adobe Portfolio was also updated, and now allows you to add mastheads and a Contact page.
To learn more about each of the features or try them out for yourself, head over to Adobe.com or simply update your apps if you're already a CC subscriber.