Getty Sues Man, Says He Stole and Sold Thousands of Photos on Facebook
If you've bought any photos from the "Spaghetti" or "Apples" photo agencies through Facebook lately, watch out. Getty Images is after you. The photo agency is suing a man who allegedly sold thousands of stolen "Spaghetti" (an alias for Getty) images through a Facebook group.
The stock photography giant last week filed a lawsuit agains an Ohio man by the name of Walter A. Kowalczuk, who they allege illegally downloaded and then sold as many as 3,400 high resolution images from the agency's library.
According to PDN, Kowalczuk allegedly acquired the passwords of two major Getty clients and used their accounts to download images he advertised for sale through a private Facebook group. Images were sometimes sold in bulk for as little as $0.75 per photo through posts like this one, identifying Getty as "Spaghetti" and the Associated Press as "Apples."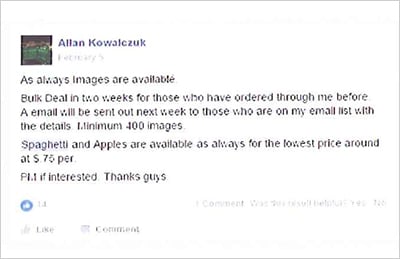 "Minimum 400 images," he writes in the alleged post. "Spaghetti and Apples are available as always for the lowest price around at $.75 per."
The group was brought to Getty's attention by a licensing partner back in March, and since then they spent the time acquiring evidence by actually buying images from Kowalczuk so they could figure out how he was getting them.
Getty purchased a total of 29 images from Kowalczuk on three different occasions between March 29th and April 29th. Each time, Getty claims they were given the same instructions: give him the Getty catalog numbers for the images you want, pay, and Kowalczuk delivers the photos through a file sharing site. But the jig, it appears, is up.
Getty is going after Kowalczuk in court, seeking damages for willful copyright infringement, contributory infringement, computer fraud, and Digital Millennium Copyright Act violations. Kowalczuk has yet to file a response to Getty's claims.
---
Image credits: Getty Images Gallery by Philafrenzy.