The Dog Days of Chasing Storms with My Best Friend
They say that a dog is man's best friend and I wholeheartedly agree. Not only are they loyal, forgiving, compassionate, and much more, but in my case, my dog shares my passion with me.

For the past 16 years, I've traveled countless miles across Tornado Alley documenting severe weather and tornadoes. There are no words to truly describe what it's like to witness the power of nature right in front of your eyes. From beautiful supercell thunderstorms and blinding lightning to tornadoes spinning like tops across the horizon, it's simply amazing out there. I usually chase by myself, but two years ago I decided to take my dog Joplin along for the ride, and we never looked back.
Joplin was named after Joplin, Missouri. The town that was hit by an EF-5 tornado back in 2011. My girlfriend at the time and I both volunteered in Joplin after the tornado and felt the name was a sign of hope, so it was fitting for our pup.
We got Joplin four years ago from the SPCA and she's been through a lot in her young life. The day after we got her, we noticed she wasn't feeling well and rushed her to the vet. Turns out she had Parvo, a pretty nasty illness that has a 50% survival rate among puppies (I had actually lost my dog Stormy to Parvo a few years prior, so I knew the outlook wasn't good).
After two weeks of treatment, Joplin pulled through. Weighing only around 5lbs as an eight week old pup, she was still struggling. After Parvo, she got kennel cough, a nasty infection from getting spayed, and then went through some not so friendly times during a break up. As time went by, situations didn't allow for my ex to keep Joplin, so she ended up back with me and our friendship grew stronger than ever before.
Joplin has been all over the plains with me over the past two years and has seen 13 tornadoes, hail up to the size of softballs, 90mph winds and has loved every moment of it. If I look at her now and ask her, "Do you want to go chase?" She quickly turns her head, jumps off the bed, and runs to the front door. She's my co-pilot and chase partner. I hope you enjoy this series as it tells the story of storm chasing with Joplin by my side.
Our days usually start off in a hotel room somewhere in the middle of nowhere. A simple request to the hotel for two double beds and life is good. One bed for me, one bed for Joplin. You need a solid night of rest before chasing some of the craziest weather nature can create, so it only makes sense, right?
After a quick breakfast and a look at weather models, the car is packed up with gear and it's time to hit the road.
Usually the excitement of knowing we are out chasing and in search of some incredible storms overwhelms Joplin and I get a face full of dog kisses. For those that have met Joplin, they are well aware of the dangers of her giraffe-like tongue.
After a few hours on the road, we find ourselves sitting in what's known as a cumulus field. This is the area where supercell thunderstorms tend to form if all the ingredients come together at the right time. Joplin tends to enjoy sitting on the hood of the car taking in the sights and smells (usually cows) of the plains. Some actually believe that she indeed has the nose to sniff out tornadoes.
Once we have a storm initiate, it's game time. The radar is up and it's time to get closer and see what this storm has in store.
Normally though, the first storm of the day isn't the one we want, so a few more details need to be looked at and discussed before choosing the right storm to be on for that day.
Joplin has it pretty easy on the road. Usually while I'm looking at data, she's getting spoiled with treats from other chasers. Over the past two years, she's become quite the little celebrity in the storm chaser world and is kind of considered a good luck charm by some, haha.
After carefully analyzing more weather data, we get ourselves on a nice supercell thunderstorm and patiently wait to see if a tornado develops.
Neither one of us are really the patient type, especially when it comes to storms. Sometimes I really think if Joplin could drive, she'd leave me in the middle of Kansas to get closer to the storm.
To see a tornado is a pretty special moment as many storms never go on to produce them. This storm here quickly became outflow dominant and the chances to produce a tornado substantially diminished.
With our cell dying, it was time to hit the road yet again to find the "perfect" storm.
Arriving at another supercell, Joplin scopes out the sky looking for any signs of rotation.
After a bit of waiting, our storm starts to get its act together and produces a wall cloud. This lowering is a nice indicator that our storm is rotating and becoming capable of producing a tornado. It's a moment where you start getting excited but a few things atmospherically still need to come together.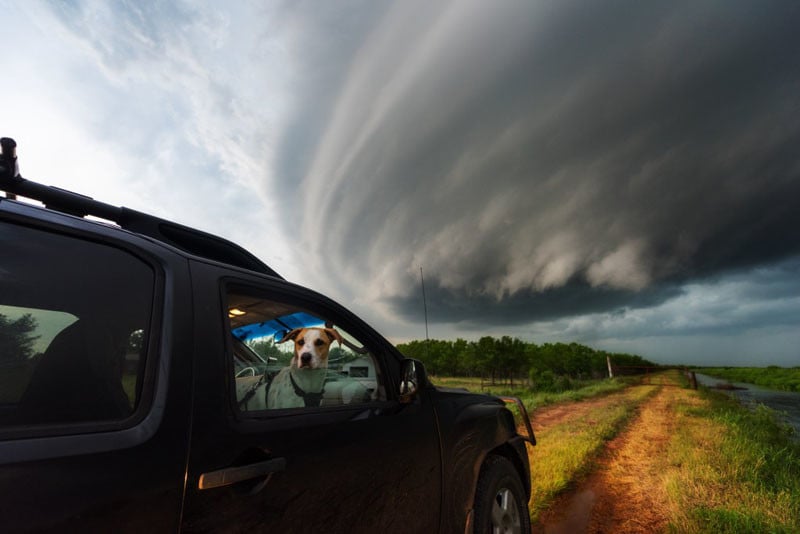 Backing off a bit from the wall cloud, we get a glimpse of the supercell as a whole. It's an amazing scene as the whole thing looks like a spaceship from Independence Day.
Our storm now is gaining strength, organizing even more and rotating extremely hard, it's moments away from producing a tornado.
With a blink of an eye, it happened. A tornado has dropped down from our wall cloud and touched down in the perfect spot. Not a single home or city nearby. It's a beautiful moment as nature is putting on her best display and there's not a chance of anyone getting hurt or having their homes damaged.
Of course, you always have to get your photo taken in front of a tornado when you see one. This was probably Joplin's finest moment as she had a beautiful EF-3 tornado to pose with just south of Dodge City, Kansas.
As giant hail starts to fall, it's time to get back in the car and see what they taste like!
Our storm begins to move away as quick as it came, and it's almost time to wrap our chase.
But first, Joplin has to take in a beautiful double rainbow and some incredible skies at sunset.
There are so many magical things to see out while chasing storms besides a tornado, like these mammatus clouds found on the back side of our storm.
One more moment to hang out with other storm chasers before the long drive home always allows for more treats to be had.
Finally, after hours and hours of driving, home. Time to reflect on the day and take in one last display of lightning before some sleep.
---
It's been an amazing two years of chasing with Joplin and a ton of fun trying to put this series together to do something a bit different than the normal storm photos. If you enjoy this story, please feel free to share it! I hope it not only brightens your day, but also can help bring light to how having a pet can really improve the joy of your life. If you are looking for a pet, I highly suggest contacting your local SPCA and rescuing one from there. Many animals have to be euthanized daily because of space, so please rescue an animal instead of buying from a breeder.
---
About the author: Mike Mezeul II is an award winning, professional photographer currently based out of Allen, Texas. His portfolio consists of professional sports, advertising, wedding and concert photography, but his work in landscape and skyscape photography truly separates himself from others. You can find more of his work on his website, Facebook, and Instagram. This article was also published here.