B&H Sued by US Government for Discrimination
Things haven't been going well for B&H Photo Video, one of the biggest names in the photography retail industry. Just months after being slammed with accusations of mistreatment and discrimination and seeing its workers protest and unionized, B&H is now being sued by the US government for discrimination.

The US Labor Department
announced its lawsuit on Thursday
, accusing B&H of violating federal requirements at its Brooklyn camera gear warehouse.
B&H "has systematically discriminated against Hispanic employees and female, black and Asian jobseekers at its Brooklyn Navy Yard warehouse," the government says. B&H is a federal contractor, so it's forbidden from discriminating in employment and is required to take affirmative action for employment equality.
"B&H fell far short of this responsibility and created deplorable working conditions for employees at its Brooklyn warehouse," says Patricia A. Shiu, director of the Office of Federal Contract Compliance Programs.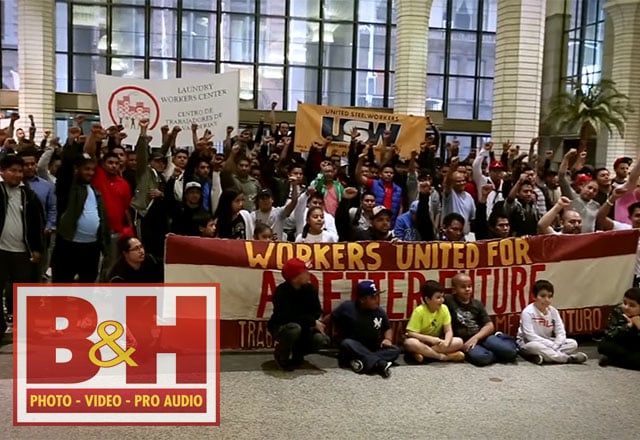 The government has some specific and serious accusations against B&H as a result of a review conducted between January 2011 and January 2013.
One is that B&H allegedly required Hispanic warehouse workers to use separate restrooms from other employees — bathrooms that are unsanitary "and often inoperable," the government says.
The lawsuit also accuses B&H of only hiring Hispanic men into its entry-level laborer positions (excluding both women and black and Asian workers), compensating Hispanic workers less than white ones, subjecting Hispanic workers to harassment, failing to keep proper records, failing to provide designated bathrooms and changing facilities for women, and more.
You can read the full text of the lawsuit here:
"OFCCP filed its complaint after determining that it was unable to secure a voluntary agreement from B&H to take corrective action," the government says. It's demanding that B&H provide relief for the affected workers, lest it cancel B&H's government contracts (worth $46 million) and permanently ban it from future contracts.
---
Update on 2/29/16: B&H has published a statement in response to the government's, calling the accusations "inaccurate" and "bizarre."
---
Image credits: Header illustration based on photo by Langeluksh