Canon's New EF-S 18-135mm f/3.5-5.6 IS Lens is the First with 'Nano USM'
Canon just announced the 80D DSLR, and unveiled alongside the camera was a new 18-135mm f/3.5-5.6 IS USM kit lens (28.8-216mm in 35mm terms). The new lens is the first Canon lens that features a new type of focusing motor called Nano USM.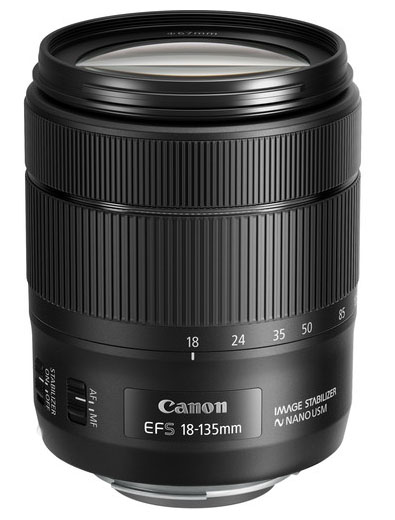 Nano USM lenses use a motor system that combines the benefits of a ring ultrasonic motor (USM) with a lead-screw type STM (stepping motor). USM delivers high speed focusing for photo shooting, while STM allows for smooth and quiet focusing for video recording. Instead of having to chose between the two options when picking a lens, photographers and videographers can snag a lens that offers both.
Compared to the previous Canon 18-135mm lens, this new one has faster autofocus speeds — up to 4.3x faster on the telephoto end and 2.5x faster for wide-angle.
Like its predecessor, the new 18-135mm offers 4 stops of optical image stabilization. A Dynamic IS feature helps reduce camera shake during video recording.
The lens also features a "premium exterior design" comprising a smooth satin finish, a metal lens mount, a black dividing ring between the zoom and focus rings, and dedicated switches for focus mode and IS.
Other specs include a weight of 1.13lb (515 g), a length of 3.78 inches (96mm), and a 67mm filter thread size.
The new Canon 18-135mm f/3.5-5.6 IS USM will be available in March 2016 with a price tag of $600 if you purchase the lens by itself.