These Photos Show How Steinway Makes Its Famous Grand Pianos
Founded in Manhattan in 1853, Steinway & Sons is widely considered to be one of the greatest piano makers in the world. Its grand pianos grace the world's grandest stages and are played by the best pianists.
Architectural photographer Chris Payne visited the company's factory at One Steinway Place in Astoria, New York, and created beautiful photos that document how raw materials are turned into some of the world's finest musical instruments. His project is titled "Making Steinway: An American Workplace."

Payne first toured the Steinway factory in 2002 while working as an architect. After his father and grandmother (both pianists) passed away, he decided to return to the factory to shoot a series about the instrument that had been so central to his family.
"The piano is something we all know and love as a whole; its deceptively simple, iconic form is instantly recognizable," Payne writes. "But my photographs look in a different direction: a deconstruction of the piano's unseen constituent parts and a glimpse into the skilled labor required to make them."
"After spending countless hours photographing the choreographies of production and scrutinizing the parts and pieces that will never be visible outside the factory, I came to realize that a piano is one of the supreme acts of human invention and imagination."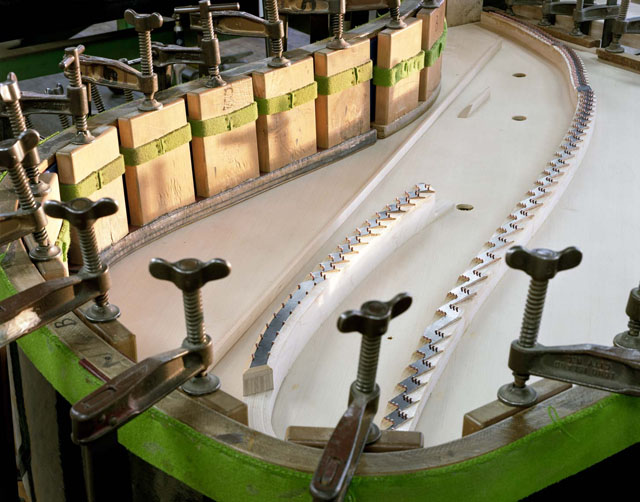 You can find more of Payne's work on his website. These photos will also be released as a limited edition book titled "Making Steinway" next month.
---
Image credits: Photographs by Chris Payne and used with permission