The Art of Photographing People Being Scared Out of Their Minds
One year ago, the haunted house called Nightmares Fear Factory in Niagara Falls, Canada scored a major marketing win after its candid photographs of horrified guests went viral online. With Halloween 2012 only a week away, Jakob Schiller over at Wired caught up with the house's marketing director Vee Popat for the inside scoop of how the images are shot:
At one point in the attraction […] the groups come to a spot where they trigger a Nikon D80 camera and flash at the exact moment where they encounter some unknown fright that is so scary it provokes grown men to hide behind their wives and friends to jump into each other's arms.

The idea for the photos was inspired by photos of people yelling as they ride rollercoasters. Popat says the owner used to actually sit in the haunted house and take the photos himself. Just like amusement parks, attendees at Nightmares can purchase their photos after they've recovered from the excitement and the "best of" photos circulate on monitors in the lobby.
In case you missed the viral images last time, here's a sampling of some of the house's recent photographs: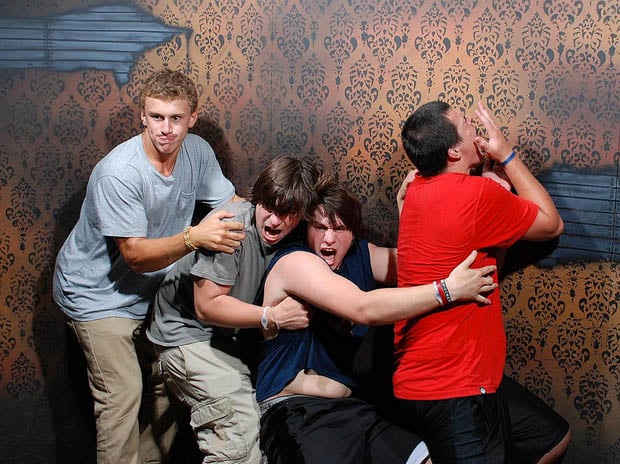 Nightmares Fear Factory runs a popular Flickr account where it uploads a "best of" collection to a new set for every month.
People Lose Their Sh*t in Hilarious Haunted House Photos Part Two [Wired]
---
Image credits: Photographs by Nightmares Fear Factory