Photographer Shoots 'Bullet Time' Using a Ring of 100 Pinhole Cameras
For his master thesis project at Hochschule Mannheim in Germany, photographer and communication designer Andreas Neumann decided to create bullet time animations using analog photography. He ended up creating a camera ring composed of 100 individual pinhole cameras for the project, titled Orbita 13.

Neumann says he spent a year building and testing the camera, and that the final 13 shots were created over the period of 6 months. The camera is 2 meters (~6.6 feet) in diameter and is essentially a do-it-yourself wooden camera creation.
It's loaded with 35mm film in bulk, and about 6.3 meters (~20.67 feet) of film are required for a bullet time exposure.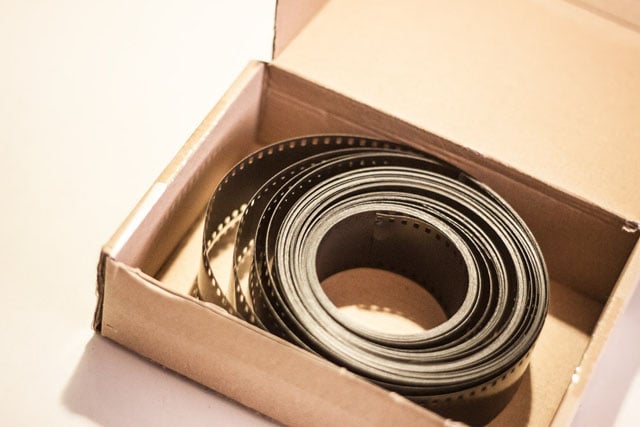 The exposed black-and-white film is then developed using caffenol. The 100 resulting pinhole photos are finally combined into a motion picture that lasts 8 seconds with a playback rate of 12 frames per second.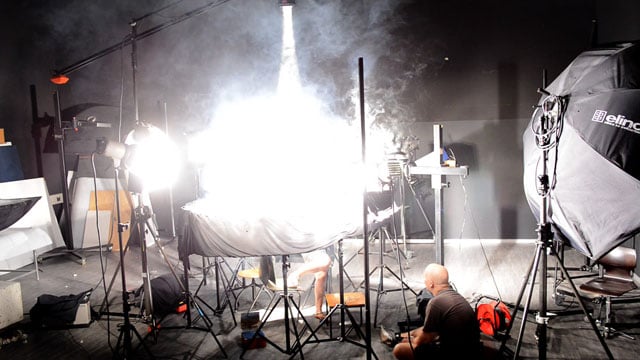 "The people in the pictures are isolated from the area by my staging and appear mysterious, cold and oppressive," Neumann says. "In this mysterious fantasy world I create ghosts which let the viewer lose their grip on reality."
"Fascinated by the beginnings of photography in the 19th century, I was inspired by the photographer Eadweard Muybridge and Étienne-Jules Marey. Both have experimented with self-made cameras and different techniques and are considered pioneers of chronophotography."
This 14-minute video provides a behind-the-scenes look at how the project was done (note: the video contains nudity):
Here's the final 4-minute-long Orbita 13 short film with the 13 bullet time animations (again, there's some nudity):
Neumann has also created a book with the frames from this project. You can find more info on Orbita 13 here and more of Neumann's work on his website.
---
Image credits: Photographs and videos by Andreas Neumann and used with permission