Heartbeat: Beautiful DIY Pinhole Cameras Powered by Watch Movements
Pinhole cameras can be easily and cheaply made using things you have lying around the house… or you can go to the opposite end of the spectrum and fashion yourself a highly intricate pinhole camera. That's what Korean photographer Kwanghun Hyun did with his Heartbeat cameras. The two cameras created so far feature one crazy design choice: they use intricate watch movements as their internal timing mechanisms.

The world of watches and clocks, movements are the internal mechanical mechanisms that make the devices "work." Kwanghun, whose formal education was in metalwork at Hongik University in Seoul, decided to stuff one of these systems into brass pinhole cameras. The movements are used by the Heartbeat pinhole cameras in order to track exposure time, precisely controlling how long the camera's shutter is open for.
The first camera, named Heartbeat 1 (shown above), is created out of a brass box. The plates, knobs, and rings found on the camera were fashioned by Kwanghun himself. On the front of the camera, a Unitas 6497 watch movement is visible: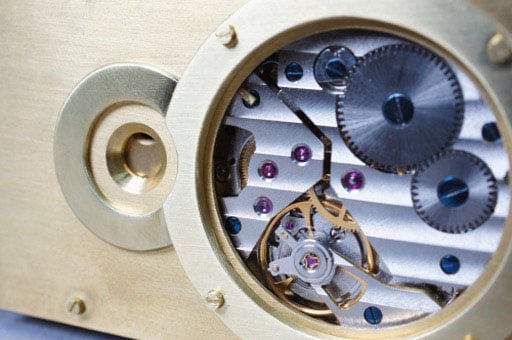 The movement must be wound up in order to use the camera; set your shutter speed, press the shutter release, and the film is exposed to the desired amount of light.
After the first attempt, Kwanghun built a second camera, named — you guessed it — the Heartbeat 2:
This camera features a movement found inside a sealed compartment on the top side of the camera. The custom design required Kwanghun to completely rebuild an existing watch movement in order to make it compatible with his camera design.
Here are some sample photographs captured using the two cameras:
You can see more photographs of these cameras over on Kwanghun's website. You can also find some photos of the cameras being built over on the watch site Worn & Wound.
(via Worn & Wound via Technabob)
---
Image credits: Photographs and video by Kwanghun Hyun