The Photographer's Oil Collective Offers High-End Oil Reproductions Worthy of Pros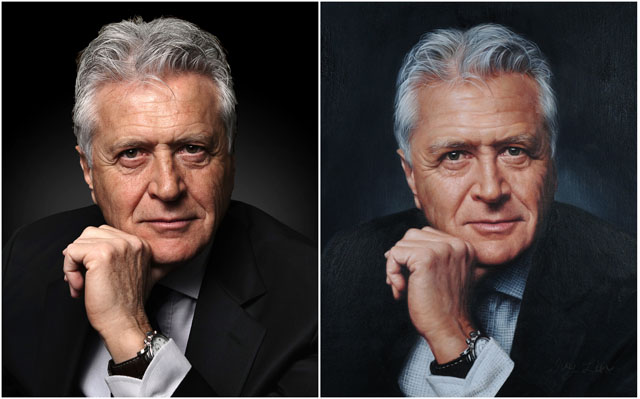 Photographer David Hobby is best known for his popular blog Strobist, which has introduced countless photographers around the world to the art of shooting with off-camera flashes. Today, Hobby just officially announced a new endeavor called The Photographer's Oil Collective (POC): it's a service that turns photos into one-of-a-kind, hand-painted oil reproductions — a tangible product that pro photographers can be proud to present to clients.

The comparison images above show a reference photo by photographer Ivan Kosmynin on the left and a POC oil reproduction by painter Ivy Lin on the right.
While there are existing services that offer hand-painted reproductions of photos — Instapainting is the 800-pound gorilla in the space — POC is geared towards quality rather than quantity.
Hobby traveled to Xiamen, China, and searched through thousands of oil painters in the city to put together a small group of talented, hand-picked artists — "four of the best reproduction oil painters in the world," Hobby says.
The team then worked with the painters to "think like photographers," fine-tuning their style to be more in line with Western aesthetics. For the other side of the equation, there's an informational packet for teaching photographers how to meet the painters halfway with their images.
Here are some examples of photo reproductions by POC painters:
"A photographer can now create a museum-quality oil painting. And it can be done at a surprisingly accessible cost," Hobby writes. Ordering is done through the POC website. The smallest size, 16×20 inches, costs $750. The largest, 36×48 inches, will cost you $1,200. The base price covers 2 subjects in your photo, and each additional subject adds an extra $150.
Oh, and the paintings each have 6-7 levels of oil paint that take months to paint, dry, and finish. "But the result is a depth and luminance that the quick jobs cannot hope to have," Hobby tells PetaPixel.
The pricing and time frame definitely aren't geared toward the average consumer, but if you're a professional looking to have a oil reproduction of your photo by a top painter, then the Photographer's Oil Collective is a new service you might want to check out.