Point of View: Photographing Race Protests in Sydney
This past weekend was the 10th anniversary of the infamous Cronulla Riots in Sydney, Australia, race riots that resulted in 26 injuries and 104 arrests. "Party for Freedom" leader Nick Folkes decided to hold a "patriotic barbecue" to mark the occasion, but attracted less than 50 supporters. The event was attended by a throng of anti-riot police, journalists, and a counter-protest from a much larger crowd.
Photographer Dillon Mak was covering the event, and he used a GoPro to document things from his point of view. In the 9-minute video above, things start getting heated at about 3 minutes in.


"Anti-racism and Anti-facism groups descended into Cronulla to attempt to confront the people attending the BBQ," Mak says. "This resulted in clashes with riot police who were attempting to keep the groups separated to prevent large-scale violence. The counter protesters also had clashes with both members of the BBQ who were intentionally confronting them and allegedly innocent locals of Cronulla."
"The result of the day was anti-racism protesters evoking a sense of the violence experienced at the original Cronulla riots while the BBQ commemorating the riots was peaceful (because of highly restrictive court orders)."
Here are some of the photos Mak captured on Saturday, December 12th, 2015: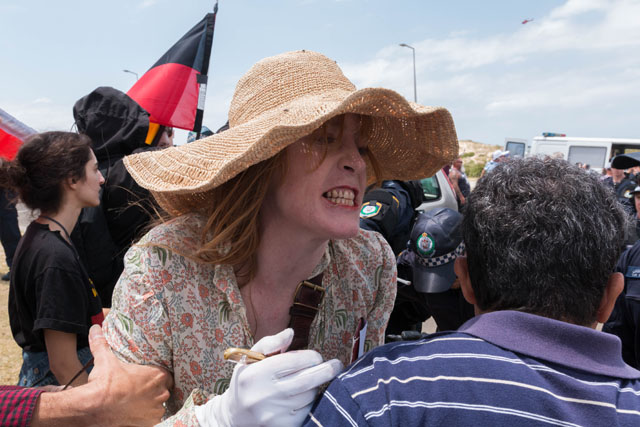 Mak also photographed the "Reclaim Sydney" protests back in July.
---
Image credits: Video and photographs by Dillon Mak and used with permission