Photojournalist Exits Prestigious Contest After Cloned Straw Discovered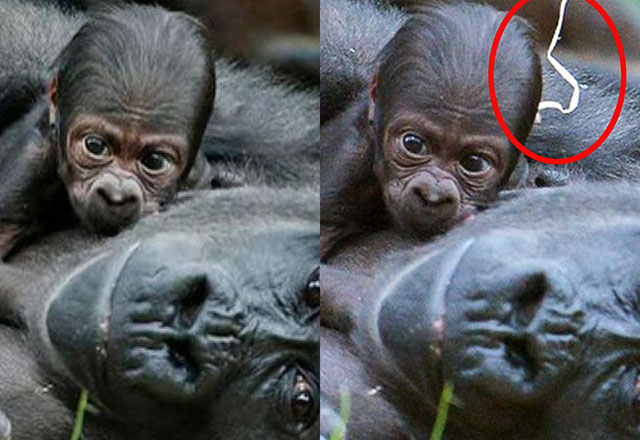 A photojournalist has withdrawn his entry from Australia's most prestigious press photography contest after it was discovered that he had cloned out a piece of distracting straw from one of his pictures.

The Walkley Foundation announced this week that News Corp photographer David Caird has voluntarily pulled out of the 2015 Nikon-Walkley Awards for Press Photographer of the Year after being nominated as one of the 3 finalists.
The Guardian reports that the altered photo was this shot of the baby gorilla Kimye at the Melbourne Zoo:
The photo was just one of the images submitted to the contest as part of Caird's body of work. The Photoshopping apparently went unnoticed until Caird's photo was spotted by another anonymous photographer who captured virtually the same exact image at the same time. That photographer's photo, however, had a piece of straw above the baby gorilla's head.
The rules of the contest state that "No cloning, montaging or digital manipulation other than cropping, 'digital spotting', burning and dodging is permitted," so the photographer alerted Walkey about the suspicious submission. Caird soon withdrew his submission for 2015 Nikon-Walkley Press Photographer of the Year.
"It was a minor technical breach in a single photo," writes the Walkley Foundation. "However, the integrity of the Walkley judging process is paramount, and the withdrawal of the entry demonstrates David's commitment to that ideal."
This news comes less than a year after the prestigious World Press Photo announced that it had disqualified 20% of its finalists for altering photos in ways that broke the contest's rules.