Leica SL: A New 24MP Full-Frame Camera to Compete in the Mirrorless War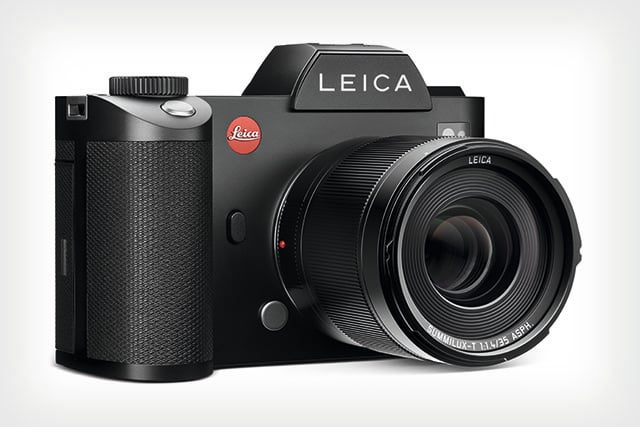 Big news in the camera industry today: Leica has just announced the Leica SL, an entirely new mirrorless camera system that competes directly against the likes of Sony. Yes, the Leica M is technically a "mirrorless camera," but the new SL is a new non-rangefinder, full-frame camera with interchangeable lenses.

Leica says the new SL is "a mirrorless camera system designed for professional photographers." Inside the Leica SL is a 24-megapixel full-frame CMOS sensor that has a max ISO of 50,000. A low-pass filter is left out for maximum sharpness and contrast.
The camera is also fast: it boasts what Leica is calling "the fastest autofocus on the market," and the 2GB buffer lets you shoot at up to 11 full res photos per second and save them to the dual SD memory card slots in both 8-bit JPEG and 14-bit RAW DNG simultaneously.
On the back of the Leica SL is an impressive 4.4-megapixel, 0.80x-magnification electronic viewfinder with a new technology called Leica EyeRes. The EVF boasts a refresh rate so high that "it's always smooth and consistent," Leica says. Press the shutter halfway, and the EVF will show you a preview of exactly what the resulting shot will look like.
Underneath the EVF is a 2.95-inch , 1.04-million-dot touchscreen LCD that has a viewing angle of 170-degrees.
The Leica SL is built to be a rugged camera. It's made of solid aluminum, and it's protected with weather-resistant seals that keep dust, moisture, and splashes out of your camera. The rear LCD's glass is scratch resistant and has an anti-glare coating.
For lenses, the SL uses the Leica L mount. Three lenses have been announced for the new system so far: a Leica Vario-Elmarit-SL 24-90mm f/2.8-4 will be launched with the camera. A Leica APO-Vario-Elmarit-SL 90–280mm f/2.8–4 will arrive in early 2016, and a Leica Summilux-SL 50 mm f/1.4 will hit the market in late 2016.
If you already have existing Leica lenses, the SL system will be compatible with them as well. T lenses will be compatible without an adapter. Leica S, M, and R lenses will be usable using additional adapters.
Shoot professional video? The Leica SL can do 4K video at 24/30 frames per second and Full HD video at 120fps. 4K footage can be output in 4:2:2 10-bit over HDMI 1.4. When shooting in video mode, the camera's interface shows safe area, aspect ratio, zebra function, and the mic's recording level (there's an optional audio adapter for connecting an external microphone).
Other features of the Leica SL include focus peaking, a standard hot shoe, and built-in Wi-Fi and GPS.
The Leica SL (Type 601) camera will be available starting November 16th, 2015, with a price tag of $7,450. The 24-90mm f/2.8-4 lens will launch at the same time for $4,950.