Leica Unveils the CL, A Crop Mirrorless Camera with a Classic Design
Leica has just announced the new CL, an APS-C mirrorless camera with a more classic design and interface, as well as the new Elmarit-TL 18 mm f/2.8 ASPH, the "smallest wide-angle APS-C lens."

Leica CL
"With stunning image quality – even in low-light scenarios – new electronic viewfinder technology and superb video capabilities, the Leica CL is the ultimate tool to capture everyday moments, all customizable to the photographer's style," Leica says.
The new Leica CL sits alongside the Leica TL2 in the company's APS-C crop sensor lineup. The two cameras are similar, except the CL will be more appealing to serious photographers in a number of ways.
While the TL2 is "futuristic" and minimalist in its design, with a backside dominated by a large touchscreen, the CL has a more traditional Leica physical interface that features classic buttons and dials.
The top plate has two dials for setting aperture, shutter speed, ISO, exposure compensation, and shooting mode.
There's also a small LCD screen on the top plate of the camera, allowing users to quickly see camera settings at a glance without using the 3-inch 1.04-million-dot LCD touchscreen.
There's also a built-in 2.36-million-dot electronic viewfinder with Leica's EyeRes technology, which is also used in the full frame Leica SL.
At the core of the Leica CL is a 24-megapixel APS-C sensor with a Maestro II image processor and an ISO range of 100-50000. Using 49 autofocus points, the CL can shoot at 10 frames per second for still photos.
For video recording, the CL can shoot 4K video at 30 frames per second as well as 1080p at 60fps.
On the front of the CL is an L-Bayonet lens mount, which allows the CL to share lenses with the TL and SL lenses — the latter without an adapter. Leica M and R lenses can also be mounted using separate lens adapters.
Other specs and features include Wi-Fi, a Leica CL App for iOS and Android that can serve as a remote viewfinder, a 1/25000s electronic shutter, and a USB 3.0 Type-C port.
Here's a short video introducing the Leica CL:
Leica Elmarit-TL 18 mm f/2.8 ASPH
Unveiled alongside the CL is the new Elmarit-TL 18 mm f/2.8 ASPH lens, which Leica says is the smallest wide-angle APS-C pancake lens available on the market. The lens measures 20.5mm (or less than 1 inch) in length, so when it's mounted to the CL, the entire kit is still small enough to slip into a coat pocket to take around everywhere as an ultra-compact camera.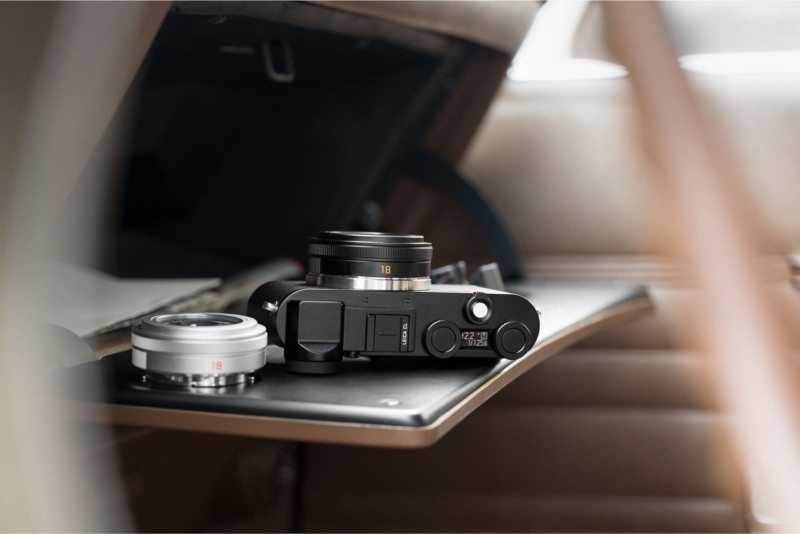 Pricing and Availability
The new Leica CL will be available at the end of November 2017 with a price tag of $2,795 (by comparison, the Leica TL2 currently costs $1,950). The lens will be available for $1,295. There will also be a "Prime" kit containing the camera bundled with the lens for $3,795 (a savings of about $300).