In Newborn Photography, Butt Explosions Are Par for the Course
Newborn baby photographers often capture the same elements in their shots: a nude baby sleeping serenely as their doting parents' smile and gaze. What you don't often see, however, are the many unexpected accidents that happen. And there's one truth many baby photographers know very well: babies can't stop the shoot to request a bathroom break.

Photographer Gigi O'Dea was photographing a newborn recently when the shoot was interrupted by a tiny "butt explosion." The parents, Shayna and Mark Resnick, wanted a photo of Asher on Mark's back to feature Mark's wing tattoo.
"It didn't go quite as planned," O'Dea tells PetaPixel. "Having been photographing newborns now for over 10 years, I've come to expect the unexpected."
The parents fed Asher prior to the shoot to make sure he was as content as possible, but "even with the heater going and lullaby's playing, baby Asher still seemed quite squirmy and unsettled," O'Dea says.
"Once I felt like he was settled enough to pull his diaper from under him, he shot poop all over dad's back and pants before I could even snap a picture. Of course there was an eruption of laughter from all of us, and maybe a few groans from dad."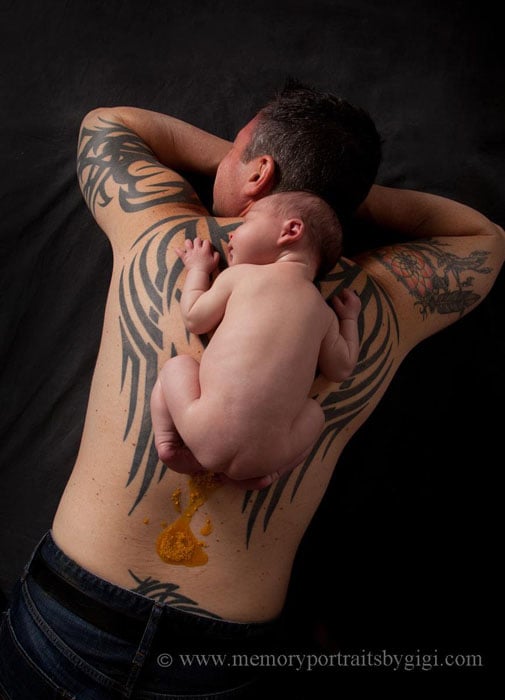 "On our second attempt to get the shot, Asher exploded again all over dad's back and mom's hands," O'Dea says. "Asher then started peeing on dad and two seconds later, Asher spit up on dad's face! We were all howling with laughter. Makes me just smile thinking of it."
O'Dea says that it would be unusual for a newborn to not have an accident of some kind during a photo session. There's always a risk of a messy situation, especially when the baby is naked.
Asher was an extremely happy baby, and he posed well for quite a few beautiful portraits during the sessions:
If you're thinking of getting into newborn portrait photography, just be prepared to spend time cleaning up happy little accidents.
(via Gigi O'Dea via HuffPo)
---
P.S. You can find more of O'Dea's work on her website and Facebook.
---
Image credits: Photographs by Gigi O'Dea and used with permission