This Guy Managed to Shoot a Self Portrait with the ISS
Photographer Trevor Mahlmann has a knack for capturing light trails showing the International Space Station zipping across the sky. Back in June, he made headlines by photographing the ISS from the seat of airliner as he cruised at 40,000 feet. Now he's back again with another neat feat: he shot a self-portrait of himself staring up at the ISS as it zipped by overhead.

Mahlmann writes that he started thinking hard about how to photograph the ISS creatively after finding out from online resources that it would be making a pass over his area at around 10PM on July 31st. After a bit of brainstorming, an idea came to him.
"I thought, why don't I pull out my grandpa's little Cessna 150, position it just outside the hangar in the grass, have the runway lights shine through behind, and maybe stand next to it and watch the ISS flyover," he says.
Since he had to frame his shot before the flyover, Mahlmann used compass headings and star charts from the website Heavens-Above to figure out where in the sky the ISS would be.
The map revealed the constellations that the station would be passing, so Mahlmann set up his camera and the airplane to include those constellations in the frame.
After a few test shots to check exposure at 9:55PM, it was showtime.
"After pushing 'Start' on my intervalometer, I jumped up on the wing and right at 10:00:46 I saw it rise off the horizon and watched the ISS flyover me, waving a few times to Scott Kelly and Kjell Lindgren, who were probably sleeping at the time," Mahlmann says.
He shot 16 separate 16-second exposures with his Canon Rebel T5i at ISO 100 with an 8mm fisheye lens at f/3.5. Once stacked, the photos produced the beautiful final shot of Mahlmann staring up at the ISS: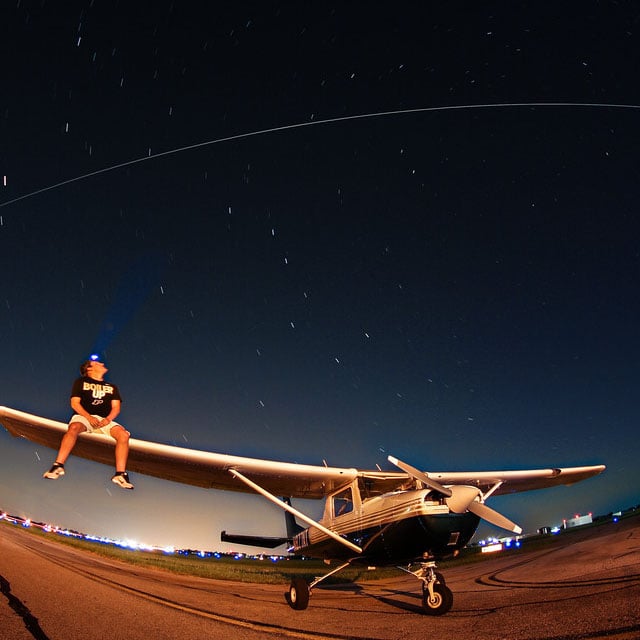 You can find more of Mahlmann work on Facebook, Twitter, Instagram, and YouTube. Here's also a more detailed writeup about this particular shot on his blog.
---
Image credits: Photographs by Trevor Mahlmann and used with permission