Newspaper Rejects Foo Fighters Photo Contract, Will Buy Fan Photos Instead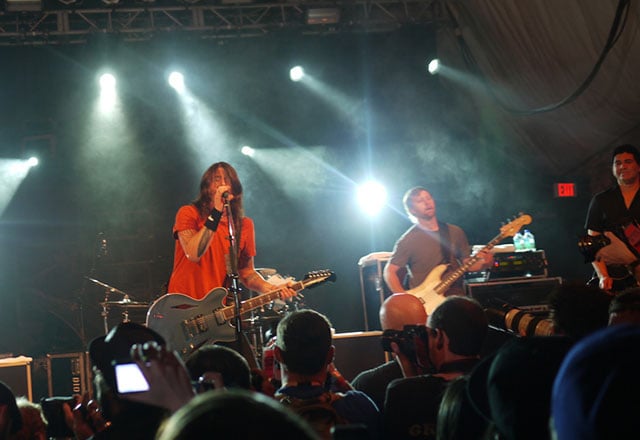 There's a revolution brewing in the world of concert photography. After photographer Jason Sheldon penned a viral open letter to speak out against Taylor Swift's concert photo contract, a major Irish newspaper decided to boycott photos at Swift's recent concert. Now a Washington newspaper has followed suit with another major player in the music industry: the Foo Fighters.
The Washington City Paper says it won't be sending a photographer to this weekend's Foo Fighter concert due to the fact that the band's contract "sucks." Instead, the paper hopes to buy photos directly from fans who attend the show.

In
an article explaining its decision
, the newspaper shared a copy of the contract that was provided by the Foo Fighters:
"If we signed it, we would have agreed to: the band approving the photos which run in the City Paper; only running the photos once and with only one article; and all copyrights would transfer to the band," writes the City Paper.
"Then, here's the fun part, the band would have 'the right to exploit all or a part of the Photos in any and all media, now known or hereafter devised, throughout the universe, in perpetuity, in all configurations' without any approval or payment or consideration for the photographer."
"That is exploitation of photographers, pure and simple."
The newspaper contacted the Foo Fighters' management, but the response was typical: these contracts are "standard" and are necessary to "protect the band," they claimed. City Paper points out that the Rolling Stones, though one of the biggest names in music, don't make the same demands in their contracts.
Instead of signing the contract and sending a photographer to the Foo Fighters show, City Paper is asking fans who attend the show to send in photos if they'd like to see it published.
"We'll pay you for it," the paper says. "And we won't ask you to sign over the copyright or your first born, either."
---
Image credits: Header photograph by Monika Runstrom