DIY: Build a V-Flat with Swappable Catchlight Shapes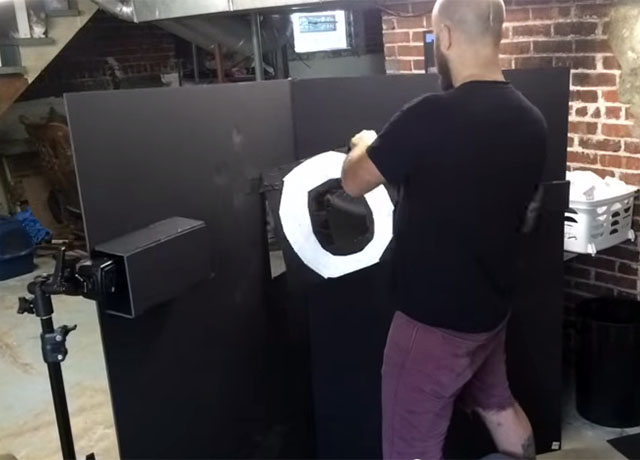 Photographer Nick Fancher is the author of Studio Anywhere, a photographer's guide to shooting high-quality portraits in unconventional locations and with low-budget tools and materials.
As one of his latest projects, Fancher built a v-flat catchlight with interchangeable white shapes as a flexible tool for portraiture.

A quick walkthrough of the build can be seen in this 1.5-minute video:
For supplies, you'll need 3 large sheets of black foam board, a roll of 1-inch white artist tape for the shapes, and a roll of 2-inch black gaff tape for connecting the different pieces.
This is actually Fancher's second-generation v-flat design. The first one "was not ideal," he tells PetaPixel. "I was applying tape or paper for each different shape configuration (triangle, circle, etc), which took a lot of time and wasted supplies."
Here's his first generation build and a sample portrait:
For this latest 2nd-gen build, Fancher focused on creating a more modular system. "The new setup consists of making several panels with different white shapes (for bouncing the light back on to the subject), which can be quickly and easily swapped out," he says.
Here are a couple of sample shapes and example portraits:
"The rig is more than just another DIY ring light solution," Fancher says. "It's a cheap, portable rig that runs off of 2 flashes and allows you to make almost any shape catch light in your subjects' eyes."
---
Image credits: Photographs and video by Nick Fancher and used with permission