Sonder Keyboard Uses E Ink to Put Shortcut Icons At Your Fingertips
Tired of having to memorize new keyboard shortcuts for every application you use? Want to see every Photoshop tool icon right under your fingertips? Sonder is a new customizable keyboard that can help you navigate shortcuts. Each of the main keys features an E Ink display that can be customized with different icons for different programs.

When you're using Photoshop, you can have the icon on each key reflect the particular tool or feature that key is used for while editing your photos: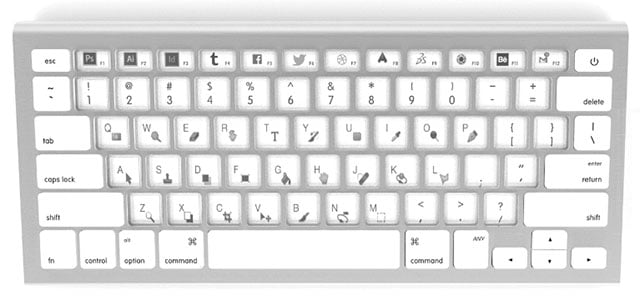 Need to switch over and do a little work in Adobe Illustrator? The keyboard will adjust the keys to reflect the new shortcuts you have at your disposal:
50 of the 78 keys on the Bluetooth keyboard can be customized and are lit up in the dark. In addition to application specific shortcut icons, the keys can also be changed for different language settings and key layouts (e.g. DVORAK).
As you might notice from the non-customizable keys, the Sonder concept appears to be geared toward Mac users — at least initially. The keyboard works with PCs, but some of the key labels are specific to Mac.
Sonder is reportedly planning to launch a Kickstarter campaign later this year to launch this keyboard, but for now those who are interested can pre-order one for $199 through the Sonder website.