Nemeio is a 100% E-ink Keyboard You Can Customize for Photoshop
Nemeio is a 100% customizable e-ink keyboard that allows users to change the display on any of the 81 keys. Photographers can create a key layout that's helpful when editing photos in apps such as Photoshop and Lightroom.

Using Nemeio's companion software program, users can easily create a keyboard profile by dragging and dropping icons. Changes made to the on-screen keyboard show up on the real thing.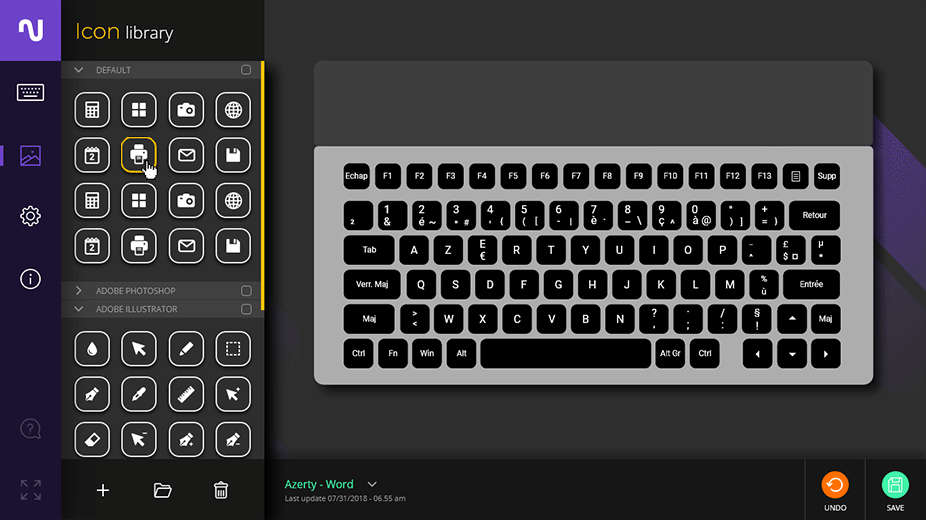 The French-made keyboard can be set to change its layout automatically based on the app you're using. It can be in one layout while you're writing emails to clients and then switch to shortcut icons automatically when you switch over to editing photos.
The Nemeio keyboard is also designed to be ultra-portable, as the 12x7x0.43-inch (30.5×17.8×1.1cm) brushed metal device is wireless and connects to any device that supports Bluetooth keyboards.
Features on the keyboard itself include mechanical keys, profile switching buttons, USB/USB-C ports, and an on/off button.
Here's a 1-minute video about the new Nemeio keyboard:
The Australian startup Sonder unveiled a similar e-ink keyboard in 2015 on which the main keys can be customized, and Apple was rumored to be in talks with the startup over its dynamic keyboard technology in 2016 (but it's unclear if Apple still has any plans to create a dynamic keyboard of its own).
The Nemeio keyboard is set to ship in 2019, and it won't exactly be cheap: Engadget reports that it will likely cost somewhere between $300 and $500.