Photographer Suing Pinterest in Federal Court Over Repeated Copyright Infringement
A Seattle-based fine art photographer is suing Pinterest for infringing upon his copyrights and other intellectual property rights. Christopher Boffoli claims that his photographs have been posted over 5,000 times on the public site, and that Pinterest isn't doing enough to "protect photographers and their work".

Pinterest is a popular social website that allows users to share pictures and 'pin' them to digital online boards for collection. Boffoli tells PetaPixel that he has submitted multiple
DMCA takedown requests
over the years in an attempt to take down his photographs that are being used without permission. After failing to completely remove his content, Boffoli is looking to federal courts for support. He notes that the Pinterest process has been "like a game of Whac-A-Mole", that creates an "endless burden on content creators". To this day, many of Boffoli's photos can be easily found by doing
a search for his name
.
"Much of my work is pinned to Pinterest without attribution, which throws out the window the common trope about this kind of use gaining me 'exposure'," Boffoli says. "But who does gain from this is the Pinterest founders who generate many millions in revenue and a valuation reportedly north of $11 billion, not from something they created but from the use of visual art they didn't create and don't pay to use."
If Boffoli's name sounds familiar, you may know his most famous work, "Big Appetites", which places miniatures on food; he was most recently featured on the cover of the New York Times Food section last week. Boffoli was also a 2012 James Beard Award finalist in the humor category. Here at PetaPixel, we also featured his work back in 2012.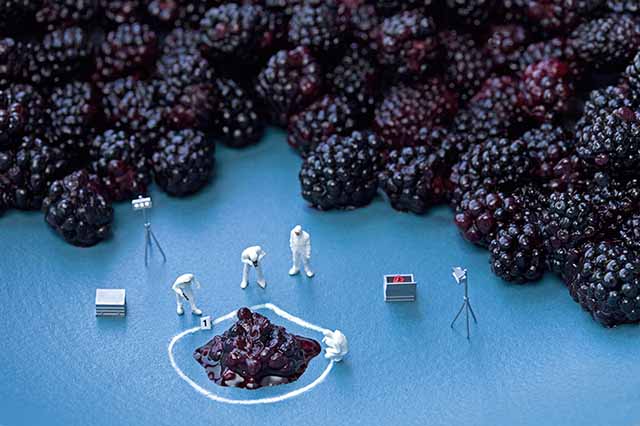 Pinterest currently has a page dedicated to copyright infringement requests, in which they note they act in agreement with the Digital Millennium Copyright Act of 1998. However, the company states that they "will take whatever action, in [its] sole discretion, it deems appropriate, including removal of the challenged material from the Site".
Boffoli is not new to suing large corporations to protect his copyright; he has previously sued Google, Imgur, Twitter, and others. His current legal battle with Pinterest is currently in the discovery phase with a trial date set for early 2016. Pinterest has offered Boffoli a settlement, but the photographer says that this case is about more than just money; he wants "photographers to stand up for their work" and he hopes his actions will serve as an inspiration. That being said, the monetary amount that Boffoli is suing Pinterest for has not been disclosed at this time.
We have reached out to Pinterest for a comment and will update the article if and when we receive a response.
---
 Image credits: Photographs by Christopher Boffoli and used with permission.