Clever Photos of Tiny People Living in a World of Giant Food
Big Appetites is a project by photographer Christopher Boffoli that features miniature people living in a world of giant food. The subjects are seen mining for strawberry seeds, chopping up giant blocks of chocolate, and lobster wrangling. Each of the figures (meant for miniature train models) are hand-painted with meticulous detail.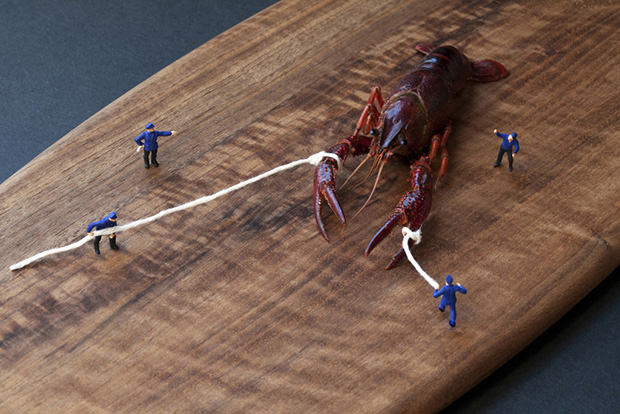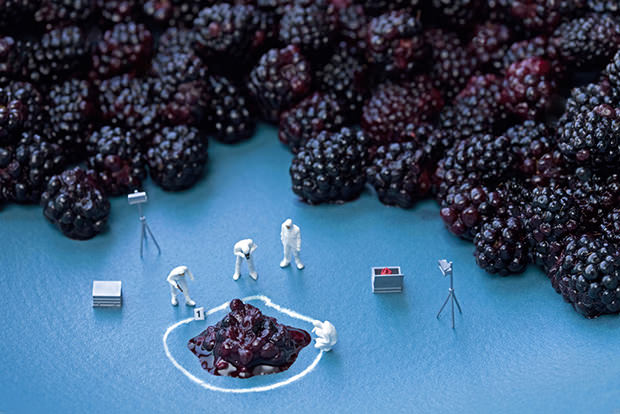 Regarding his process, Boffoli writes,
The set-ups come from a very natural place. I'll usually start with the food, seeing what's in season at the farmer's market, considering what I've shot before. Or I think about iconic American foods, like Oreo cookies or Twinkies, and how an image of those things might tap into someone's early memory (or current closet addiction/supermarket guilty pleasure). But I also consider how I can populate those images with figures with a context that makes sense. By now I have quite a little community of figures that I use, and I keep adding to the arsenal all the time. So that's a big factor: finding a clever match for what I want to shoot. These images look simple but can be tedious to set-up. I'll often try to do multiple set-ups over a few hours. Some go quickly. Others take longer. I'll work out lighting and depths-of-field.

There is a certain corner of my studio that I tend to use for this project. We have a lot of overcast days here in Seattle so it has marvelous, diffused light. I try to use available light as much as possible, though if I'm still working as the evening approaches I'll set up a couple of off-camera slaves to add light. Sometimes a set-up just doesn't work the way I had hoped and I'll change the orientation of the background and/or the figures.

[…] Other than some light and color adjustment, the images are not heavily manipulated with image processing software. The food I use is even totally real. Especially with commercial food photography there is a lot of cheating, for instance, using white glue in place of milk or glass cubes instead of ice. But I don't really need to cheat with the food either. It is not always something you'd want to eat at the end of the shoot. But it is real.
You can see more of these photos over on the project's website.
Big Appetites (via Craft)
---
Image credits: Photographs by Christopher Boffoli and used with permission