NYTimes Photographer Sues Perez Hilton for $2.1M Over Copyright Infringement
BuzzFeed isn't the only blog that's routinely accused of using photographs without permission. American celebrity blogger Perez Hilton (above right) is being whacked with a $2.1 million lawsuit by New York Times photographer Robert Caplin (above left) for publishing 14 photographs without permission.

According to court documents, Caplin claims Hilton (whose real name is Mario Lavandeira Jr.) used 14 copyrighted photographs of Glee actor Darren Criss without asking after Caplin published 32 of the photographs to an online gallery (the photographs were originally published in a New York Times story about Criss' Broadway debut):
The Phoblographer reports that although Caplin's websites contain preventative measures designed to combat "photo theft," Hilton took screenshots of the photos in order to obtain them.
In addition to publishing the photos, Hilton slapped a "PEREZHILTON.COM" watermark to the photographs and linked the images to a store selling the clothing worn by Criss in the images:
Caplin claims that when he called Hilton after discovering the infringement, he received both an apology and an agreement to take down the photos. That takedown didn't happen, and Caplin decided to sue—which then caused the takedown to actually happen.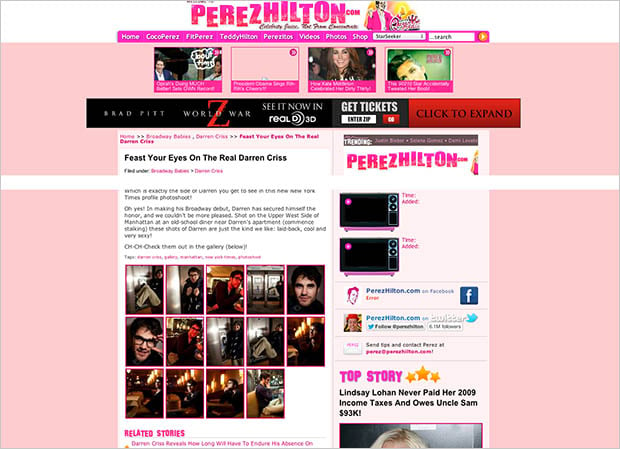 The photographer is suing the blogger for copyright infringement and violating the Digital Millennium Copyright Act (DMCA) in refusing to take down the content. Caplin wants $150,000 for each infringement, for a total of $2.1 million.
(via Courthouse News Service via The Phoblographer)
---
P.S. Caplin is being represented by Carolyn E. Wright and Leslie Burns, two lawyers known for their blog Photo Attorney.
---
Image credits: Header portraits by Laia Prats and Paparazzo Presents, Criss portrait by Robert Caplin and used with permission