Photographer Carter Warden Shares How He Got His Flickr Photos into National Geographic
Carter Warden is a photographer very similar to the rest of us; he captures the world with a lens to his eye because it is a hobby that brings him joy. However, Warden had a bit of a surprise recently when he discovered that National Geographic was interested in paying for and publishing two of his underwater photographs.
To learn more about this experience, we interviewed Warden to learn where he began, how National Geographic has affected his life, and where his plans for the future lay.

A Passion for Adventure
Warden noted that he has always wanted to get into photography since elementary school. "I saved up money and purchased a Minolta SRT-201 LR around 1976," he recalls, "it was an expensive purchase for a high school kid". Warden began early but set the hobby aside soon after, only to pick it back up again with the advent of digital photography.
Always having an interest in diving, Warden recalls his favorite show from childhood, The Undersea World of Jacques Cousteau. However, years passed, and Warden did not chase his childhood dream, until 2002 when he finally became certified. The decision came before a wedding anniversary trip to the Caribbean. In preparation, Warden purchased an old 4 megapixel Olympus digital camera and used waterproofing housing from eBay — he was ready to explore.
With the masses of digital content that Warden recorded he needed a way to save it; this is when he turned to Flickr. "I don't remember when Flickr started, but I had all these images on disks," Warden says, "I was afraid something would happen. Then I made a free Flickr account and really liked it." To this day, Warden continues to backup and save his memories to Flickr, many private for his family, but others, such as his diving adventures, available for all to enjoy.
Approached by National Geographic
When Warden was first contacted for possible usage of his photographs, it came as a surprise that left him in disbelief. His first contact was a researcher assembling an issue for National Geographic, who took down information and told him he would be contacted in a month or so.
"Four months later, I got an email from someone in India," Warden tells us, "they were putting the book together and asked if I would be willing to contribute two of my photographs." Another three months passed by, and Warden finally signed a contract with National Geographic — it was happening, he was going to be a published photographer.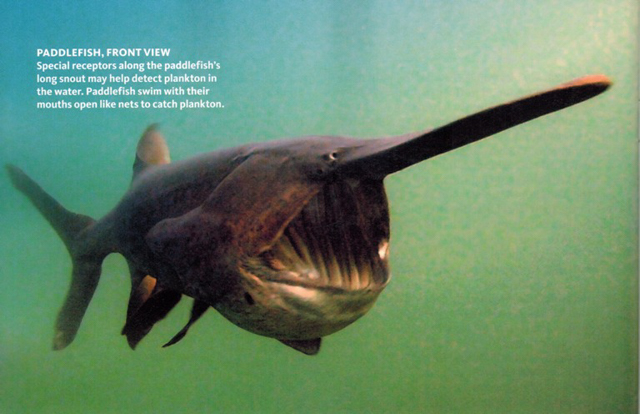 The two photographs that National Geographic decided to publish were of a paddlefish located in a Sweet Water, Tennessee, rock quarry. Warden tells us that the fish "live in rivers and streams" and that these fish were "placed there for studying". The fish have a frightening appearance when their mouth are open , but Warden assured us that, while these animals can grow up to six feet long, they are filter feeders that eat plankton.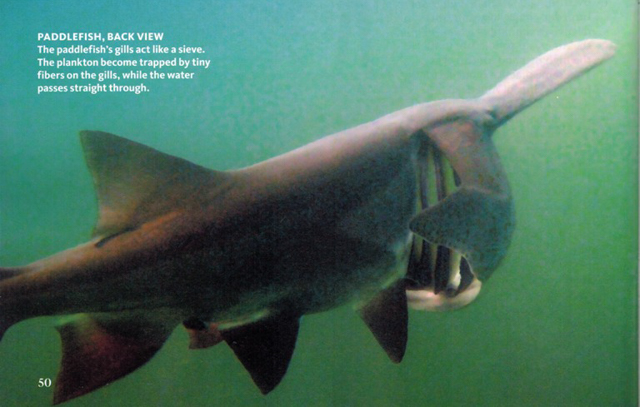 Equipment and Advice
When we asked Warden about the equipment he used for the National Geographic shots, we were surprised to learn that they were both captured on the used 4 MP Olympus point-and-shoot that he acquired using eBay, along with a water-housing; this is a great example of ordinary gear being used to create extraordinary images. Over the last few years, Warden has begun shooting with a GoPro, along with a Canon T2i Rebel.
Warden claims that the experience of being published with National Geographic hasn't necessarily changed him. "To me," he says, "it was all just a hobby and wanting to document things." He did note however that he underestimated his collection, "I didn't realize other people would value my photography as much."
For those looking to find the same fortune as Warden, he merely comments that you should "make your stuff accessible"; Flickr was Warden's medium, but there are many other ways to share your photographs with the masses online. Warden has traveled quite a bit around the world but still has destinations he wants to visit in Africa, Australia, and Antartica, where we wants to "dive with whales, seals and penguins and of course take pictures!"
For those interested in Warden's work, you can check it out on his Flickr page by clicking here. He also has a selection of Vimeo videos that he took with his GoPro; those are available here.
---
Image Credits: Photographs and Video by Carter Warden and used with permission.