How I Use Black Tape on My Fujifilm X100 for Street Photography
You can solve everything with black tape. If not, you just don't have enough tape.
In this post, I'll show you how I prepare my Fujifilm X100 camera for street shooting. It will cover my specific style of shooting, so some things might not work for you.

Here's how I shoot: I shoot fully manual except for Auto ISO, which I set on 1600 or 3200. For the most part I use zone focusing and tend to keep the camera in my palm and inside my jacket's pocket (that will be obvious below).
Lets start with the bottom. Piece of tape covers the speaker. It does prevent moisture and dust from entering a camera, especially that, if you put it down, you'll probably do it bottom facing down. No need to worry about dusty table or spilled/beer/milk. And since I have muted all the sounds and don't do any video recording, speakers are useless.
This piece of tape covers the magnetic cover for USB and HDMI connectors. Since I don't use any of them (card readers are more convenient for me) and since I don't want to accidentally open the cover at the wrong moment (it can happen), it's all sealed now. Also: dust and moisture thingie. I believe the camera is pretty resistant against it, but you never know.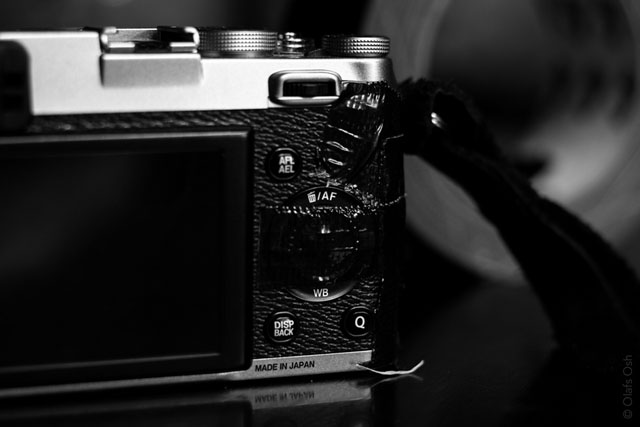 The top piece covers the indicator lamp. I guess this is self explanatory: we don't want some colorful dot beeping in our peripheral vision. Also, in dark environments it can seriously blind people. Well, not blind, but attract attention for sure.
The second piece of tape over the command dial may be questionable for some, no doubt. I like to know my shutter speed at all times and since I carry my camera as I do, this wheel is a nightmare. In Page 39 of the manual you can find out (I didn't at first, doh), that with this wheel you adjust the speed +/- 2/3 of the stop.
Too many times, when I thought I shot at 1/250s, I actually shot at 1/160. In certain circumstances it can make a big difference, so I chose to stick with only the speeds I can set on mechanical wheel on top and ditch this extra option. Command control stick is free of tape, as I rarely hit it by mistake, but who knows.
Of course, you cannot use the wheel in Playback mode – you can only click, but I've found, that the wheel is pretty bad there as well, so I, personally, don't miss this option.
OK. It's an image of my old HTC phone. And it has a lot of small tape pieces over it's back. Why would I need that? Why would I need tape pieces with me all the time?
As I said before, my choice of focusing is zone focusing. On f/8 I usually prefocus on 2m/2,5m/3m, depending on the mood and other things. Since I tend to hold my camera in my pocket, there's a good chance the zoom ring will turn. If something comes up and your pre-focus have gone from 3 meters to 5+ meters, it can cost you (especially if you're shooting from the hip).
Thus, I use a small piece of tape on the focus ring. As you can see, I make a little non sticky flag from it as well, so I cam tear it off in a second and focus to a different distance.
If your little tape get's lost or doesn't stick anymore, just take another one from the back of your phone. Of course, this won't be appealing to you if you want show off your new iPhone.
There you have it: how I use black tape on my camera for street photography. It may fit your needs or it may not, but thanks for reading.
---
About the author: Olafs Osh is a photographer based in Latvia who specializes in street, urban, and portrait photography. You can find more of his work and writing on his website and blog. This article originally appeared here.