How I Photographed the US Men's National Soccer Team for Sports Illustrated
Looking back at this year, I was fortunate enough to photograph a lot of cool things and meet a lot of great people. It's only right that I write about my biggest shoot this year — well actually, the biggest shoot of my career to date. I'll start off by saying that everything that could have gone wrong did go wrong.

One of my favorite quotes of all time is by Mike Tyson: "Everyone has a game plan until they get punched in the face."
I find that to be so true, not just in boxing but in life. No matter how much you plan for things, you can always count on the unexpected happening. You can even plan for the unexpected, but it's the punches you don't see coming that always hit you the hardest. For this shoot, I felt like I got punched in the face several times.
I got a message from Brad Smith, the Director of Photography at Sports Illustrated in April asking if I'd be interested in shooting the US Men's National Soccer Team for them.
Absolutely!
It's always great working with Brad. Over the years, I've done a handful of assignments for him at SI and when he was at the NY Times. Once I said yes, he told me there wasn't a date set yet but to hold mid-May open.
I was actually considering going to NYC around that time to meet with editors, art buyers and clients before I heard from Brad, but I didn't even have to think twice about not going. I'd much rather be busy shooting and working than showing my book. That's the goal of showing your book.
At that point, I didn't have a lot of details about the shoot. Just that it would be shooting the USMNT.
Fast forward a few weeks later, I got a text from Brad asking if I checked my e-mail. I looked, and it was a short e-mail that read:
We are on for 5/24 with USA Soccer photos.

Sill to be determined:

Video. Looks good, awaiting confirmation from one additional person.

Clint. Awaiting word for additional time for Clint cover.
Two things grabbed my attention from that email. The first was the last 2 words, "Clint cover". I was like, wait a minute, this is for the cover? I had no idea. I didn't want to think too much about it. I know a lot of times you can get hired to shoot a cover and plans can change for the magazines and they end up using another image. So I told myself I wouldn't get excited until everything was done and in print.
The other thing that grabbed my attention was the date, May 24th. It was great to finally have a date locked it, but unfortunately that was also the same day my sister was graduating from SF State. She let everyone in our family know far in advance her graduation date so everyone would have enough time to request that day off.
I absolutely love my sister and she worked really hard in school. This meant I would have to miss her ceremony. I had a great reason to not be there and she completely understood, but it still kind of sucked because it would have been great to be there for her.
A bit later on, I got more information for the shoot. It was not just shooting the cover, but three different stories. Here was the break down:
Photograph Captain America/Clint Dempsey for the Cover – time with Clint for the cover 10-15 minutes
Meet team USA, do portraits of the 30 man roster – about 1 minute with each player
Do a group portrait of all the German players that play for the USMNT – 10 minutes
I finally had more information about the shoot and what was expected. So in my head I imminently started coming up with ideas and what to do. I was also able to scout the location at Stanford to see where we would be.
I was put in touch with Michael Kammarman the Press Officer for the U.S. Men's National Team. When I scouted the location with him, there were many great options. However, he asked me if I was going to need time to set up, which I did. I always like at least 1 hour (if not 2-3 hours) to set everything up and have it ready to go once the talent/athlete gets there.
Since I needed time to setup, and also needed to be near the SI film crew that would be interviewing the players after we photographed them, we were put in the middle of nowhere by the restrooms and locker room where the referees get ready. This was the best location because it was also near the locker room for the players and it would be easier to gather all of them.
The convenient location had no shade, we had a 3pm start time and we were on asphalt. That's no problem at all, the only thing I would like/need is power to plug in lights. All the surrounding rooms were locked except one. It had only 1 outlet, but that was a perfect location for Lee (the SI Video Producer) to set up.
I was told that the other rooms could be unlocked and should have power we could use. Not very promising considering the only room unlocked only had 1 outlet and I'm notorious for blowing breakers!
In coming up with ideas and what gear to use, I decided to use battery power packs so we wouldn't have to worry about finding enough power the day of the shoot. The perfect solution was the Profoto B4 packs and B1 mono heads. They are battery powered but you still have access to all the Profoto light modifiers.
I originally wanted to do 3 separate setups. One for the cover, one for the group shot and a 3rd for Meet Team USA. And since for the 3rd one I would only get one minute with each player, I wanted to run 4 different lighting setups at once and do a shot burst with the Pocket Wizard Speed Cycler and shoot 4 different looks back-to-back. So I took pen to paper and started figuring out what I needed and brainstorming possible ideas.
Once you figure out what you need then comes the reality of what's actually available. When I had all my ideas figured out, they required 20 heads. The Profotos B1's weren't available anywhere since they were sold-out and you couldn't rent them. So I actually ended up using all B4 packs and a few B2 packs. It was a lot of lighting gear. Well over $100,000 worth of lighting gear which required me to up my rental coverage in my insurance policy.
This was the length of my rental contract at Samy's Camera in San Francisco with all the gear itemized:
I had all the lighting done. Now came the time to figure out which camera/lens to use. When having the opportunity to shoot world class athletes it would be great to shoot them with a medium format camera and get that "extra" quality. However, since my time would be short with each athlete and I wanted to shoot multiple looks at once with the speed cycler I needed a camera that could do a quick burst, preferably full frame and have good amount of mega pixels.
The Canon 1D-X was the clear choice instead of a 5D Mark III or any other higher megapixel camera. When shooting portraits, I love light and spend a good amount of time lighting the area/set where the subject will be. But once it's set, I like to forget about the lighting and completely focus on my subject 100%. This includes not changing lenses. Therefore, I prefer to shoot with zoom lenses if possible.
When you're in the middle of a portrait session and you have to stop and change lenses I believe you can lose moments and also interrupt the natural flow of the session. A zoom lens can allow you to quickly go from a wide shot, to a tight shot in a matter of seconds without pausing. This would be absolutely important since my time with each player would be very short. So my lens of choice for this shoot was the Canon 24-105mm f/4L IS lens.
A lot of photographers like arguing about zoom lenses vs prime lenses and which is better. Some even say that prime lenses are always "best". Photographers also like to debate about "natural" light vs "artificial" light, and what type of light is best and have a favorite light and lens they always use. Everyone has their process and we all do things differently.
I always stay away from having a favorite lens, camera, light and modifier because even though that can be nice and comforting, at that point you're letting the gear dictate your vision instead of your vision dictating what gear you need. For this shoot, I assessed what was required from the assignment, what I had envisioned and that dictated the gear I needed.
Setting up 3 sets and 20 lights is no easy task. But I had the luxury of having 3 assistants for this shoot and also a late start time of 3pm. We could get there early at 9am, and have plenty of time to set everything up, test it and be ready for the players. SI wanted a tight shot of every player along with a full length portrait. Since the players would be wearing cleats and we were on asphalt, one of the last things I got was a couple patches of sod grass for the players to stand on.
The day before the shoot, I got a message from Michael asking if we could be ready to start photographing the players at 9am instead of 3pm. I said that shouldn't be a problem, and asked what time we could start setting up. He said 8am, which would give us only about an hour to set everything up. I ask if it would be possible to come earlier at 7am and was able to get an extra hour. I also headed there that same day with one of my assistants and we setup all the light stands and left them there overnight so we could get a jump start on the following morning.
I was feeling great about everything and was ready for the next day. The following morning, during my drive to Stanford, I got a call from Brad for last minute details of the shoot. Brad's great to work with because he always gives you enough information about the shoot without dedicating and limiting what you can do.
I've worked with other editors who are very specific with what they want/need to the point where it's almost like a chore that needs to be done that anyone who can follow directions can accomplish, and other editors who give no guidance and just say we need a portrait (which is 100% okay by me as I can come up with something on my own).
I arrive at Stanford in the morning and met with my assistants. We started to unload the rest of the gear and began setting everything up. Once all the lights were out and all softboxes were put together we started putting up the lights. Putting all the packs, heads, Pocket Wizards in place and assigning the right groups/channels.
I then went to trigger and test the 1st set of lights… and nothing happens! Tried to trigger another set, same thing nothing. NONE of the lights were triggering! I've NEVER had this problem before, but what better time than now to have it (Boom! Punched right in the face).
I had plenty of Pocket Wizards Plus 3 for this shoot, about 12 and 4 MultiMax. So we began trouble shooting. Switched out Plus 3's, tried different cables, switched out the MultiMax on the camera. Tried triggering from the hot shoe, then off the hot shoe and hardwired to the camera. The only thing that was consistent was getting erratic triggering. Not sure what caused this issue. Perhaps interference from the Walkie-Talkies the security had?
After switching out triggers and receivers we were finally able to get things to somewhat work. However, for some reason group C would not fire. So for the setup of the 23 players, I had to cut out one of the looks and was only able to trigger 3 groups, A,B, and D. I looked at the time and it was 8:25am, so we had about 35 more minutes to perfect everything before the players started arriving. Enough time to work out the rest of kinks. Only, they started bringing players 5 minutes later at 8:30! (Boom! Second punch to the face!). Ready or not, here they came.
A handful of players came in the morning before their practice started. Once they were done shooting with me, they went to film a short interview. Once their practice started, they all left and we had about 2 hours until the rest of the players would come, which was nice because we could catch our breath from everything that happened in the morning.
It gave us time to re-adjust the scrim as the sun was moving and I wanted to keep everything under one setup as it would be easier to manage. So I wanted to add a simple, brightly lit setup to have ready to go once Clint showed up to shoot the cover. For this, we added few more soft boxes.
As I wanted to have everything ready to go, I put that setup with a separate camera, a 5D Mark II with a 24-70 f/2.8L lens. This setup would use 2 of the exiting soft boxes so we had to get channel C to work. And fortunately it started working! At this point I didn't want to touch or change anything and just leave it as it was.
Here's the breakdown of everything we had going:
5 different looks in 1 set, firing in succession with a burst of quick shots. The first look was just one light, the modifier I used is what Profoto calls a Soft Light Reflector, otherwise known as a beauty dish, with a grid. The grid focuses the light more and lets everything else fall dark and gives harsh shadows. I had it up to give Rembrandt lighting. Here's what they looked like.
The second look is one my favorites. I love shooting with warm/cool tones. I normally use a snoot for this look but since we were on battery packs, I decided to use a narrow beam reflector which does a similar job. But instead of losing power, it focuses the light. I had the narrow beam reflector over head giving the players butterfly lighting and they were also up lit by the 2 soft boxes on the ground.
All the of those lights had a 1/4 CTO on them to give a slight warm look. And for the back light, I had a Magnum reflector with a full CTB gel on to make everything it hits go blue. I normally just shoot this look with Full CTO's plus a 1/4 CTO on top of my front lights at 2700 Kelvin but since I was shooting other looks, I couldn't do that because it would make them all look blue.
I also wanted to do another look that wasn't as dramatic as the first. So for next look I used a soft box, in the opposite side but still giving Rembrandt lighting. As you can see it's not as dark and the light hits the background more.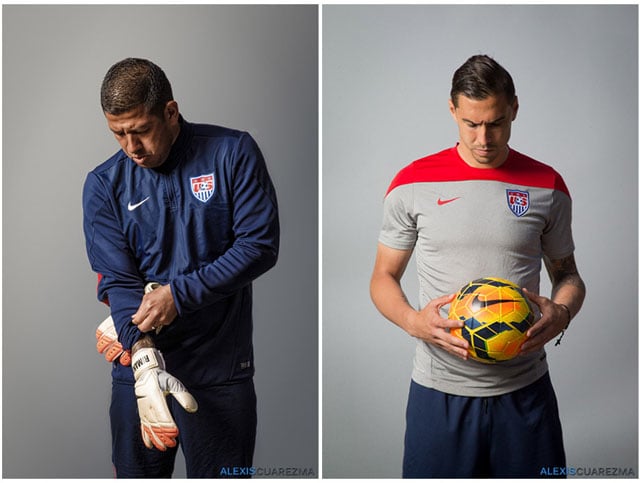 I also had one of my assistants hold a black board off to the side. I know this lighting can look great when shot from another angle. So I also did profiles of each player. I wanted a completely different look so that's why I had my assistant hold a black background instead of gray or white. It gives a completely different look and feel.
The profile portrait of Kyle Beckerman was one of my favorite ones. The light from the narrow beam reflector looks great on his dreadlocks:
On top of all the problems I was having with gear and lights not triggering, the players coming earlier than expected, having a power pack go up in smoke [another punch in the face], in addition some of the players did not want to be there and couldn't wait for their session to be done. After all, I'm interrupting their day. They just want to focus on their practice and get on with their day. While all that was going on, I also had the ESPN crew filming everything as they were following the team for Inside: US Soccer's March to Brazil. Despite all those issues and having cameras turned on me and a sound guy, you still have to find a way to enjoy everything and smile.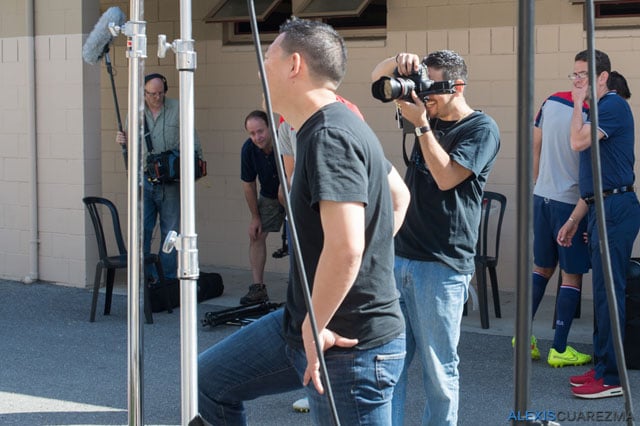 The final look I had was just a nice, simple bright look with 4 soft boxes going off and done with a single shot on my 5D Mark II. This was the look for Clint Dempsey for the cover. It was fairly a simple shot that was needed of him wearing the flag. I was going to get 10-15 minutes with him so I had a handful of ideas to try and utilize every minute.
The first thing I wanted to lock in were all the images needed for the cover. So I photographed him 3/4's and full length. Facing straight forward and to the left (facing away from gutter of the magazine as Brad directed me).
Here's another look of the entire setup plus the ESPN film crew:
Once we got those images, I wanted to do a few other things with Clint. I spoke with him the day I scouted the location and he told me he liked more of the edgier stuff. Game face and intense. So I had him celebrate with the flag and got some images of him moving a bit and shot these with the 1DX and the 3 shot burst. Something different and bit more fun.
This is one of the final photos I got of Clint. He looks happy and like he's having a great time. It's one of my favorite photos I took of him. The ironic thing about the photo above is that just seconds later, our shoot abruptly concluded after about 5 minutes so I had to scrap my other ideas.
Thankfully, I got everything I needed first for the cover shot. I can only imagine things from Clint's point of view. This was already like his 4th cover shoot in addition to having cameras in his face all day too from filming the show and being interviewed numerous times. So I'm really thankful he obliged to all ideas I had.
After we photographed all the players minus 1. We were ready to do the group portrait. However, there was a soccer game on TV and most of the players started watching. So they came out during halftime and that's when we photographed them for about 5 minutes. I originally wanted to do the group portrait in a completed different location but since we had so much issues with the gear, I didn't want to touch anything. I used the same look for the group as I did for cover portrait of Clint.
We were nearly done with everything, except for the one player that was missing. I had to call Brad and make sure I could come back the following day to photograph him and I got the go ahead. He also wanted to see a few shots of Clint for the cover so I emailed him a few small JPGs and he replied, "Just what we needed".
The following day should have been an easy shoot. 15 minutes tops with me doing the portraits then Lauren doing the video interview. We were set to shoot Aron in the afternoon before practice. However he ended up going to practice first and we had to wait a couple of hours for him to come afterward. For the 2nd day I had to setup in the bathroom.
This portrait on the right of Aron Johannsson is actually one of my favorites:
And after getting the portraits of Aron the following day, that was a wrap on the 2 day shoot! I survived it.
Once the shoot was over, then came the waiting game. I sent all the photos to SI and then just had to wait to see how it would turn out. And then a few weeks later, here were the results, the cover + 6 pages inside: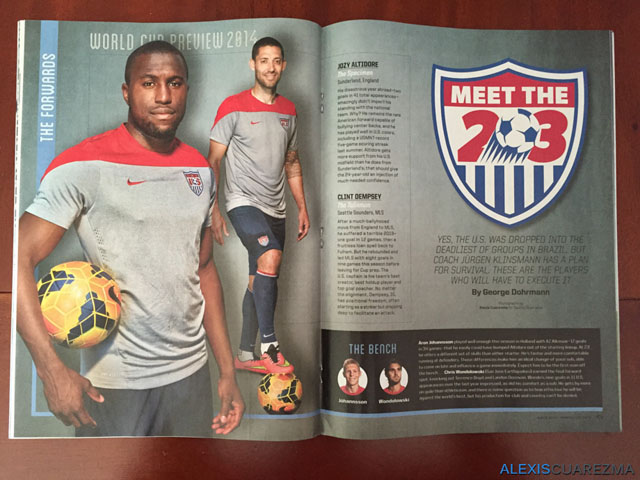 There it is, in print! It was finally time to truly be happy. It was great seeing my friends post photos of the cover in NYC at the newsstands. Unfortunately, I never got to see the cover locally in SF on the stands and only saw the other regional covers that were out. But nonetheless, I was happy.
After this shoot was done, I felt like I could do anything. Not because I'm over confident or arrogant, but because I got through this shoot despite a lot of difficulties. When you are only able to do half of what you originally planned, had a lot of unexpected issues come up and that equates into a cover plus 6 pages, I'll take it any day. I learned so much and wish I could do it all over again. I'm so thankful for this opportunity and everyone involved who helped me.
I've had many unexpected things happen during shoots. The reality of the fact is that cameras can fail, lights can fail, triggers can fail, the talent can walk away and/or be uncooperative, and it can rain on your outdoor shoot. Despite all that and all the circumstances, the photographer cannot fail.
Here's a behind the scenes video that explains everything:
The shoot also briefly appeared on ESPN's show Inside: US Soccer's March to Brazil:
And the absolute best part of all this? The shoot ended early enough and I was able to make it to my sister's graduation just in time!
---
About the author: Alexis Cuarezma is a portrait photographer based in San Francisco. He has done assignments for the LA Times, the New York Times, HBO, Sports Illustrated, and a number of international publications. You can find his work on his website and through Instagram. This article originally appeared here.