Photos of the Grand Canyon Turning into a Sea of Clouds During a 'Total Inversion'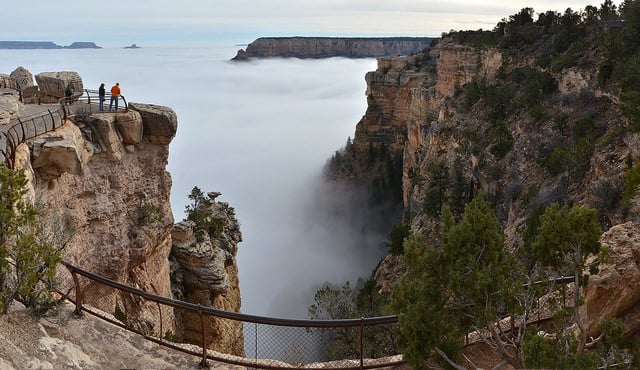 Last week, visitors to the Grand Canyon were treated with a rare visual treat: the canyon was filled with a sea of clouds due to a rare weather phenomenon known as a "total inversion."

Employees of the National Park Service were on hand and captured a number of photographs of the scene, which can be seen on the service's Flickr page. They also released this time-lapse video that condenses 15 minutes of the "sea's" ebb and flow into one minute:
Total inversions occur when cool, damp air gets trapped inside the canyon by warm air floating above. It's a somewhat rare phenomenon, occurring once every several years, but there was another occurrence in late 2013.
Here's another video showing how rapidly the fog moves:
(H/T LaughingSquid)
---
Image credit: Photographs by the National Park Service