From Above: Astronaut Don Pettit on the Experience of Photographing Earth from Space
Check out this gorgeous short film in which NASA astronaut Don Pettit shares what it was like to photograph Earth from orbit in the International Space Station. During his time aboard the station, Pettit became one of the most prolific astronaut photographers in the history of space exploration — one time he clogged up data transfers for three days with photos from a 30-minute shoot.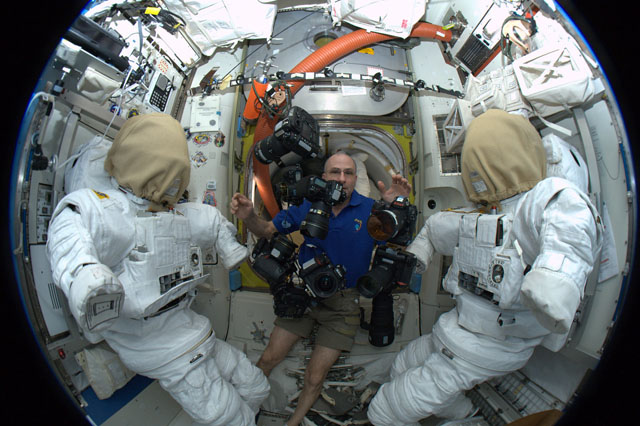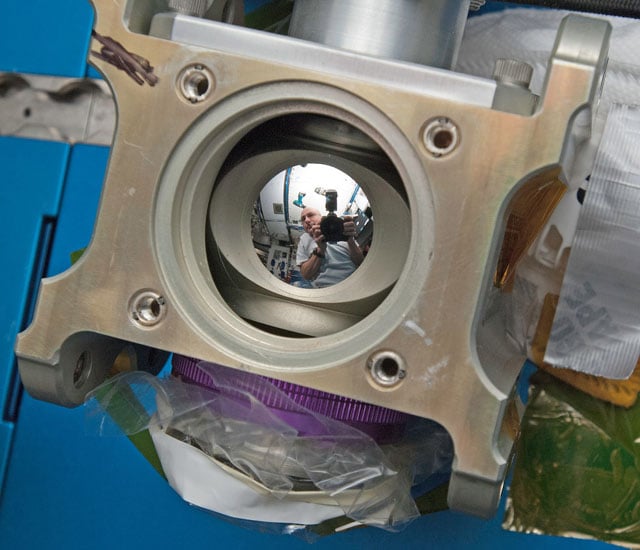 In addition to standard shots of Earth's surface that prior astronauts have captured, Pettit often used his photography and engineering skills to capture creative photos that offered new views of what our planet can look like:
SmugMug, which produced the video, conducted a fascinating interview with Pettit about photography and space. Here are some interesting snippets about the subject of shooting in space:
Do you also train for the photography?

We also get training on photography and the use of the cameras on space station. And these are professional-level cameras that have a lot of buttons and menus. They're almost like a little computer in themselves.

We have a cadre of folks here on the ground, professional photographers as well as trainers, who not only teach us how to use the cameras, but also about the specific equipment we have on station. Like how to set it up in that space environment to get the best pictures.
What are some of the differences we might not think about when photographing in gravity versus weightlessness?

As an example, we have one of my favorite telephoto lenses here: the 400mm f/2.8. It weighs quite a few pounds and definitely requires a tripod down here on Earth. In weightlessness, this becomes a beautiful piece of equipment to use. You can completely control it by grabbing on to the camera. And it's heavy enough that small things like your heartbeat won't make the lens jiggle. If you pick up a camera body with a small lens on it, the pulse in your fingers will make the camera shake.

To get around that. I taped a stick on the back of the camera in the center of the optical axis. Then when I was moving the camera, I would just have two fingers on the end of the stick. That way I could fly the camera around without physically having my fingers on the camera. And since the stick was aligned with the optical center, I could slowly rotate the stick with my fingers and make the camera rotate through 360 degrees.

In some respects, the more massive the camera, and the more massive the lens, the easier it is to manipulate in a weightless environment because small shakes have a smaller diminished effect on the imagery.
What are some of your photographic challenges in space?

In space, you can have huge variations in brightness. The sunny-16 rule sort of applies, but you have to add or subtract about 2 more f-stops because the full exoatmospheric sun on the tops of clouds is really bright. If you just take a standard picture, the cloud tops will all be snow white with no detail at all. So you need to underexpose your picture when you have a lot of clouds within your field of view.

Aurora is also tricky. The green part of the aurora is about two stops brighter than the red part. If you expose for the greens, you won't see the reds. If you expose for the reds, the greens will be saturated. We see these same things on Earth, compromising between what you can and can't see.
What about compensating for the speed of the earth and station?

You're moving at 8 km a second—that's faster than a speeding bullet. And Earth goes by really quickly. If you're using a long lens, you need fast shutter speeds. You also need to compensate by panning the camera along the axis of station to cancel out orbital motion. If you just use a fast shutter speed, they'll be acceptable pictures, but they'll be a little off in terms of sharpness. So you have to be able to slew the camera at the same rate of orbital motion while you're taking pictures to actually get the sharpest imagery.
What are some challenges of shooting in the cupola?

The crew tends to congregate a lot in the cupola. We'll have maybe six to eight cameras all staged with different lenses so you can just grab a camera and start taking pictures. There might be two or three other people in the same window with you for an interesting pass.

Say a volcano's going off. Maybe one crewmate has a 400mm, maybe one has a midrange 85-180mm lens. And then someone's shooting with a wide-angle lens. We're all shooting at the same subject at the same time in this rather small space. You have to learn not to stick your elbows out and interfere with your partner trying to get the same images.
Click here to see all of the posts we've published featuring Pettit. You can also find some of Pettit's space photos in larger sizes here.