Photo Shoot with a 15-Year-Old Elk Hunter Challenges Photographer's Views On Hunting
Recently, after a decade as a successful wedding photographer and another decade as a professional snowboarder, photographer Hillary Maybery decided to switch it up a bit and start shooting more commercial lifestyle and fashion work.
But her favorite type of work is personal work. And it's her personal desire for continued growth and variety that led her to challenge her own pre-conceptions and create an interesting photo series that follows a 15-year-old girl who loves to elk hunt.
The idea came to Maybery while browsing Facebook for a teen model to shoot. She came across an image of 15-year-old Harlee standing alongside her father, Bryan, over her first 12-point elk… dropped cleanly from 350 yards. Intrigued by Harlee and her love for elk hunting, Hillary reached out and asked if she could take Harlee out on a shoot, decked out in her hunting attire.
Harlee and Bryan happily obliged and headed off one morning to get the shoot in. Throughout the process of getting to know Harlee, her father and the family's mutual love for responsible hunting, Maybery realized that her pre-conceptions about hunting and hunters as a SoCal girl were a bit different from the reality.
As she recently told Wonderful Machine:
I thought hunters were barbaric, blood thirsty, gun lovers […] Hunting has nothing to do with violence or aggression. It's a little like farming or gardening […] What I learned with Harlee's family is that they want to know where their food comes from, have clean lean meat, they eat the whole animal, and share the meat with friends and family.
Here are some of the photographs Maybery captured while she was out with Harlee and her father: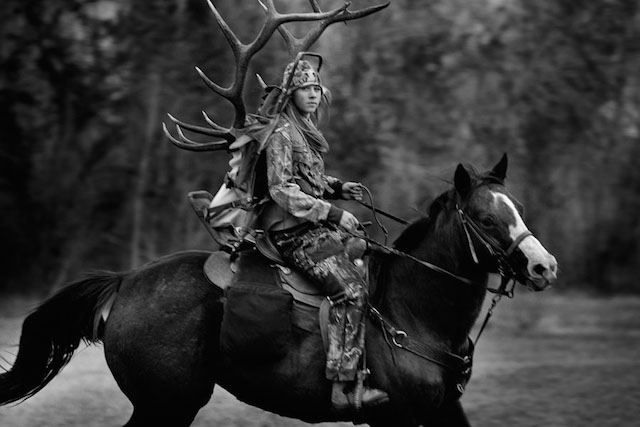 "I still would never be a hunter," Hillary told Wonderful Machine, "but my perspective has shifted and I've learned hunters are more knowledgeable and thoughtful about animals and nature. It was a great morning!"
To see more of Maybery's work, be sure to check out her website, read about her most recent adventures on her blog, or give her a follow on Facebook.
---
Image credits: Photographs by Hillary Maybery and used with permission