Sony Announces the a7II: The World's First Full-Frame Camera with 5-Axis Image Stabilization
It looks like rumor sites weren't kidding when they said the Sony a7II would be announced "in the next few days." In fact, they were being conservative.
Announced early this morning, Sony's followup to the original full-frame E-Mount Alpha 7 (or a7) has officially arrived, and, as promised, it's the world's first full-frame camera to sport 5-axis image stabilization.
Here's a quick video intro to the new camera that focuses on that exciting headline feature, which boasts a full 4.5 stops of stabilizing power!
And another video that dives a bit deeper into the technology and shows you just how well the image stabilization works. Suffice it to say it's impressive:
As you can see from the video above, stabilization can actually be applied to each axis independently. So whether you want to correct Pitch/Yaw, X/Y-axis motion, roll, or any combination of the three, you have the ability to select exactly which axes are being stabilized and which are not.
And if you're using a lens with OSS built in, the body can detect this and use a combination of in-lens and in-body stabilization to provide the steadiest shot possible.
But, of course, the 5-axis stabilization isn't the ONLY thing that separates the a7II from its version I predecessor. While the 24MP sensor and AF system are unchanged, Sony claims the AF is 30% faster and 1.5-times better at tracking moving subjects thanks to some processing improvements.
Other improvements are limited to the video front, where videographers now have access to the XAVC S codec for 1080/60p recording and S-Log2 support.
Here's a look at the new camera, which is slightly bulkier than its predecessor thanks to the in-body stabilization and a beefier grip with a new front dial: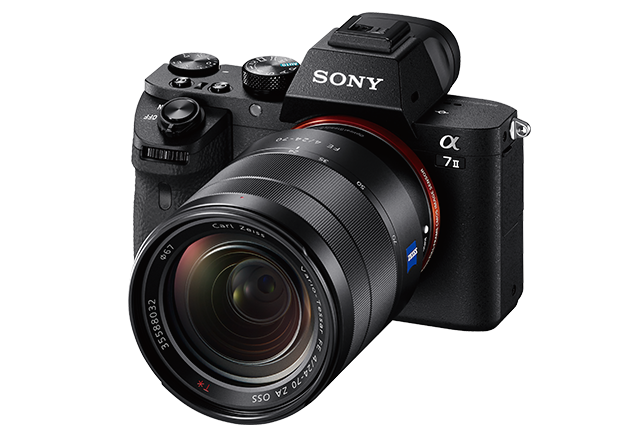 No word yet on when this camera will land in the US, but it's going to ship in Japan on December 5th for approximately $1,600 USD, and Europe in January. We'll update this post just as soon as we have an official price and release date for the rest of the world.
In the meantime, head over to Sony's global website to find out more about the a7II.