Major University Steals Photograph, Denies It Could've Known It Wasn't Free to Use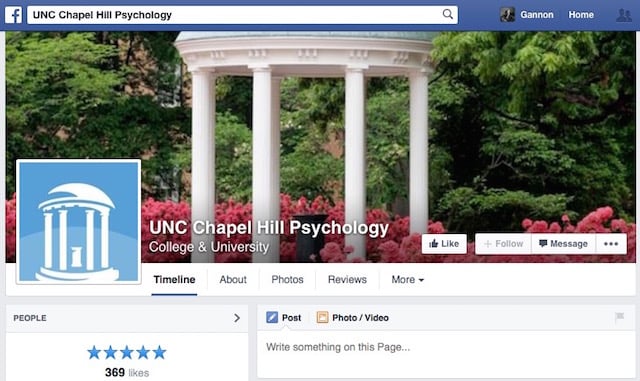 The University of North Carolina Chapel Hill is under fire after photographer Justin Cook found out that they not only used a photo of his without permission, but also denied that they could have possibly known such image was not free to use.
Cook, a UNC alum and resident of Durham, North Carolina found the stolen image, which was taken from his wife's wedding photography website, on the UNC Psychology Facebook Page.
After contacting the university in regards to the unauthorized use of the image, he received back a message from UNC's lawyers. In it, they said the image had been removed from the page, however, they do not acknowledge that it was infringing upon copyrights as they couldn't have known the image was not fair game.
Since then, there has been ongoing communication between Cook, the University and its representatives, as well as with NPPA General Counsel Mickey Osterreicher, who sent a letter to UNC explaining why their response was unprofessional and that their use of the image was indeed abuse of copyright.
However, UNC is yet to budge on the issue, continually trying to defend their side by stating since the image "did not have a copyright notice, watermark, or any other warning that publication for non-commercial purposes was prohibited," it was fair game.
You can read UNC's response to Cook below:
As of now, it's still a stalemate between the three parties, but we'll update this post if anything changes. In the meantime, if you'd like to read more details on the case, you can do so over on Crusade for Art.
(via dvafoto)
---
Update: It looks as though UNC has finally budged on the matter. After receiving a handful of negative feedback from the story being shared across the web, the University of North Carolina Chapel Hill has reached a settlement with Cook. In a public statement made on Facebook, Cook writes:
Yesterday The University of North Carolina at Chapel Hill and I came to a resolution. They agreed to pay my fee for their use of my image, and I agreed to drop my copyright claim on the condition that the Department of Psychology collaborates with me, the UNC School of Law, the School of Journalism and Mass Communication, the Media Law Center and others to hold an interdisciplinary public forum about the importance of creative rights.