The First Hasselblad in Space is Up for Auction, and It Comes with the First ZEISS Lens in Space
Space camera collectors and space camera admirers grab your bibs and prepare for some serious drooling. Seven months after that Hasselblad that may or may not have gone to the moon and back snagged a whopping $90K at a WestLicht auction, another intriguing but this time very official Hassy is on the auction block again.
The camera and attached ZEISS lens are the very first Hasselblad and ZEISS in space, and RR Auction in Boston has gone to great lengths to prove that these items are legitimate.
According to the auction house, the Hasselblad 500C and attached ZEISS 80mm f/2.8 that will be auctioned off on November 13th at 3PM Eastern orbited the Earth with Wally Schirra on Mercury-Atlas 8 and (at least the lens) with Gordon Cooper on Mercury-Atlas 9.
These facts are backed up by old images of the camera and lens that show the same abrasions on the body, pre- and post-flight photos, serial numbers, equipment lists, and previous confirmation from late astronaut Gordon Cooper.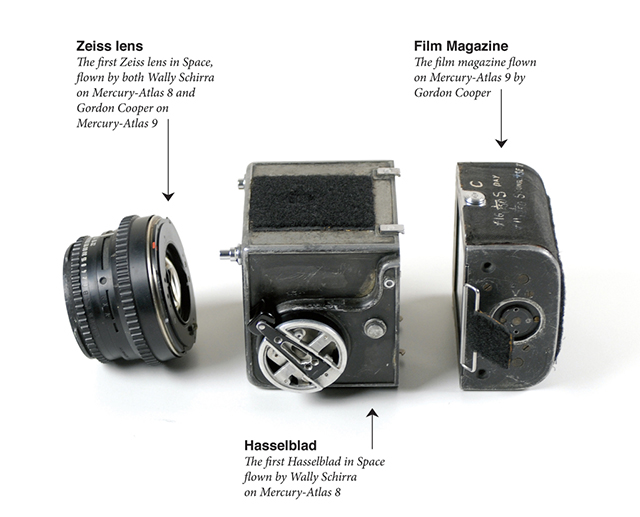 In all, three items are up for auction. The camera body, which definitely flew on MA-8 and possibly MA-9; the lens, which definitely flew on both missions; and the film canister, which flew on MA-9.
All these items together will go up for auction together on November 13th, with bidding starting at a very conservative $10,000 and the 'official' pre-auction estimate set between $50,000 and $100,000. We put 'official' in quotes because Bobby Livingston, executive vice president of RR Auction, told collectSPACE that they expect the camera to exceed expectations.
Here's a photo of the camera in action, and two sample photos taken on MA-8 and MA-9, respectively: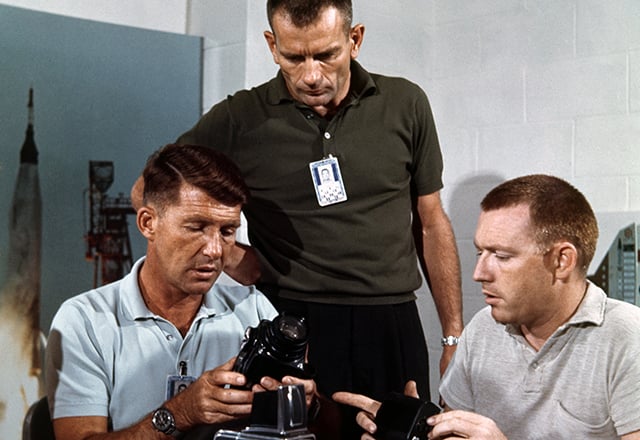 Making the auction even more intriguing is the story behind how NASA got ahold of this camera. According to told collectSPACE, the camera was purchased by Mercury astronaut Wally Schirra himself at the recommendation of LIFE and National Geographic magazines:
Schirra, who died in 2007, told a NASA interviewer in 1998 that he "got the Hasselblad" after consulting with LIFE and National Geographic magazine photographers about what model camera they would recommend. The modifications to the camera, Schirra said, were made by a laboratory at Cape Canaveral.
To find out more about this amazing camera, or register to bid on it yourself, head over to the RR Auction catalog and read up to your heart's content.