Will Video Kill Photography's Stars?
High-end video camera manufacturers are continuing to engineer innovative products that may one day change the way photographers take photographs, particularly in portrait, fashion and glamour circles.
It's a challenging and tough sell, and not without a few obvious problems.
Increasingly, video and even DSLR/mirrorless interchangeable cameras are capable of shooting video at 4K and beyond, which means the sensor can deliver single frames at or above 8 megapixels. These stills can be printed at up to A4 size at 300dpi – standard printing resolution for most magazines – and surpassing the resolution of the largest screens and monitors. Even the tiny new GoPro Hero 4 is capable of shooting 4K video, and its conceivable that a single frozen frame from GoPro footage could end up on the cover of an action sports or surf magazine. So much for the decisive moment!
UK magazine Amateur Photographer used a still taken from a 4K video captured on a Lumix GH4 as its cover shot last month (below), to show that the 'format is capable of producing images that we're happy to use to sell magazines on a news-stand'.
Not a bad cover shot, given it is a still taken from Lumix GH4 video sequence.
Video camera manufacturers are taking note that their products are attracting interest in the stills photograph market, and have also started pitching their products at these photographers.
This year at the Photokina trade show in Cologne, maverick American digital cinema camera company, RED, continued its push into the photographic stills market by setting up a fashion show to 'highlight stills-from-motion capture capabilities'. The main camera on show was the RED Epic Dragon, featuring a 6K sensor that boasts over 19 megapixels (per frame); up to 100fps; can fit easily in a backpack; and is specifically described in its press release as both a video and stills camera.
To further convince the stills photographic world at the trade show, they had Epson on the stand knocking out wide format prints and held seminars with high end stills photographers discussing their commercial use of RED cameras.
The new camera 'dethroned' the Nikon D800E and Sony A7r sensor in performance scores on DxOmark. 'This new technology just may forever change the way both footage and stills are shot in the future,' the authoritative DxOmark opined.
The RED Dragon body weighs only 1.8KG and looks remarkably similar to a HAL 9000 – but hopefully not nearly as intelligent.
It doesn't quite stop there either. There is a photo booth at the schmick new RED showroom that opened in New York earlier this year, according to Fstoppers, where visitors can use the new RED Epic Dragon camera system to take and print portraits of themselves. There's also a web page dedicated to 'Shooting Video for Stills' on RED's website. It's quite clear that RED is attempting to make an impression on stills photographers with the Epic Dragon.
'I believe the quality coming from motion camera stills images [RED] is pretty much on par [with DSLRs]. While some professionals might be able to tell the difference, I don't think the general public could really tell the origin of an image,' cinematographer, photographer and founder of Blacksun Productions, Dr Dominik Muench told Pro Counter. It is worth mentioning that Dominik was one of the first cinematographers to use a RED Epic camera in Australia in 2007, and has shot with one since.
Dominik says that he continues to use a DSLR for his stills shoots, where he specialises in advertising, fashion, glamour, editorial and commercial work. He has reluctantly swapped his Nikon D3s for a Canon Mark III, 'simply because I have a lot of Canon lenses for my RED Epic and wanted to stay with one brand of glass'. He is yet to use a cinema camera for a paid stills shoot due to 'budget restrains', which is possibly the biggest issue facing the new wave of high-end cinema cameras.
Here's why: Unless the photographer is very well-equipped in the gear department, a shoot that requires anything but natural light will come at a great cost. Most cinema cameras don't have strobe triggers and require continuous lighting gear for shoots, which is far more expensive to hire or buy outright than stills photography strobe lighting kits and softboxes. However, Dominik said if his RED Epic could be synched with a flash head, he would no longer need a DSLR for the type of work he does.
This steam punk-esque frame is taken from a video, filmed on Dominik's RED Epic Dragon. Source: Supplied
And while addressing expenses, it is worth noting that the cost of cinema cameras from brands like ARRI or RED sit closer to high-end medium-format cameras like Phase One, Hasselblad, Leica or Mamiya- in the tens of thousands bracket.
'I can't really see a company like RED or ARRI changing their price structure too much, they are operating in a market where people know the costs of the gear before they get committed, and a lot of these clients don't care,' Dominik said. 'It all comes down to identifying who your clients are, what sort of work you are doing, and what you can charge for the work that will help determine where you should invest, in terms of gear.'
(The wild card in the pack could be Blackmagic, which is delivering cine-quality cameras at a market-disruptingly low price. Which accept equally low-cost M4/3 lenses to boot!)
You may also need to carry a few extra high-capacity memory cards and have a fast mobile storage system on hand, as the Epic Dragon utilises 64GB of memory in roughly seven minutes at lowest compression.
Another point worth considering is how the act of taking a photograph would change, and the post-production process. Hitting the shutter release to capture a single moment in time would no longer be necessary with a video camera – a photographer would instead be tasked with sifting through many, many moments in time to find the right one. And at 100fps, that could involve a lot of sifting. Needles in haystacks spring to mind.
As previously stated, these cinema cameras have applications best suited for fashion photographers, which RED recognises and is marketing toward, given it put on catwalk shows at Photokina. Dominik says that many fashion photographers and agencies have begun to catch on to the greater potential that these cameras offer, with GQ, Harper's Bazaar, Esquire, Vanity Fair and Vogue all having printed still shots taken on a RED camera. He added that in some cases, his cinema camera captures 'wonderful moments in between the posing changes that you simply can't get with a stills camera, unless you try extremely hard and for a long time'. Magazines may also utilise the multi-media potential, by printing stills in physical magazines and featuring the motion footage online or in an app.
Another Epic Dragon still harnessing natural light, captured by Dominik. Source: Supplied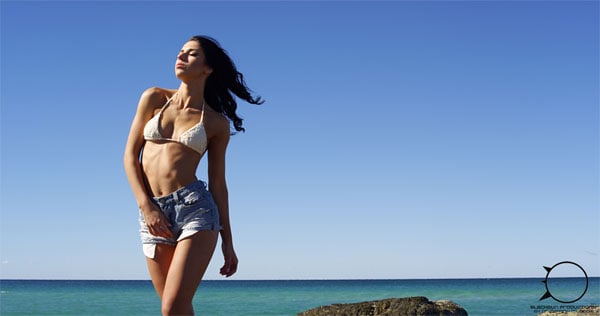 While the bulk of professional photographers are unlikely to trade in their DSLR kit and sell their car for a brand new cine camera today, it's clear that companies specialising in manufacturing video cameras are playing a major innovating role the high-end photographic products market.
At one end of the video camera spectrum, there is expensive cine cameras capable of capturing DSLR quality stills, and at the other end of the spectrum there are more affordable high-definition video cameras made by companies like Panasonic and Sony, and of course action cameras.
If Photokina was any indication of what the leading DSLR manufacturers have in store for us in the future, well by comparison, there isn't a whole lot to be excited about. Then again, there are persistent rumours that Canon had something sexy and high-res up its sleeve. It had better had!
---
About the author: William Shipton is editor of new Australian professional photography website and fortnightly newsletter ProCounter. Any Australian or New Zealand PetaPixel readers looking for an upfront and downunder perspective on the pro photography scene are invited to subscribe. This article originally appeared here.