GoPro HERO4 Revealed! 4K Video at 30FPS and the First Built-In Touch Display
The rumor mill is abuzz with speculation, but we have the first full scoop on the GoPro HERO4.
As many have reported, the two big features that are appearing are 4K video recording at 30FPS and a built-in touch display.

Unfortunately, these two features won't be appearing in the same camera. Instead, there will be two models: the HERO4 Black (shown above) and the HERO4 Silver (shown below).
HERO4 Black
The HERO4 Black is a powerhouse action camera that doubles the performance of the previous GoPro (yet again). Touted as "the most advanced GoPro ever," it has improved image quality and a 2x more powerful processor.
The Black will capture 4K video at 30 frames per second, up from the 15fps of previous GoPros, allowing for extremely high-quality footage that's much more usable for a wide variety of applications.
Here are the available resolutions and frame rates: 4K at 30fps, 2.7K at 50fps, 1440p at 80fps, 1080p at 120fps, 960p at 120fps, and 720p at 120fps. It appears these cameras are no longer capable of 240fps. [Update: These are actually the 'key resolutions'. We've published a complete chart of available resolutions below]
For still images, you'll be able to capture 12 megapixel photos at 30 frames per second.
Audio capture is also improved, with the new system capturing 2x the dynamic range.
On the front of the camera is an ultra-wide angle glass lens, and the camera can be set to three different field-of-view settings: Ultra Wide, Medium, and Narrow.
There will be new manual settings for both photography and videography — controls such as color, ISO limit, exposure, and more.
The camera is waterproof down to 131 feet (40m). Other features include built-in Wi-Fi, Bluetooth, exposure settings for nighttime shooting, a "HiLight Tag" feature for marking key moments in footage, a QuikCapture feature for powering up and recording with one button press, and auto low light features.
Regarding the issue of backward compatibility, the Black and Silver will both be compatible with all GoPro mounts and accessories.
HERO4 Silver
The HERO4 Silver doesn't offer 4K video recording at 30fps (it still does 15fps), but it's the first GoPro to offer a convenient built-in touch display.
Users will be able to control the camera, frame shots, and review content simply by tapping and swiping the screen.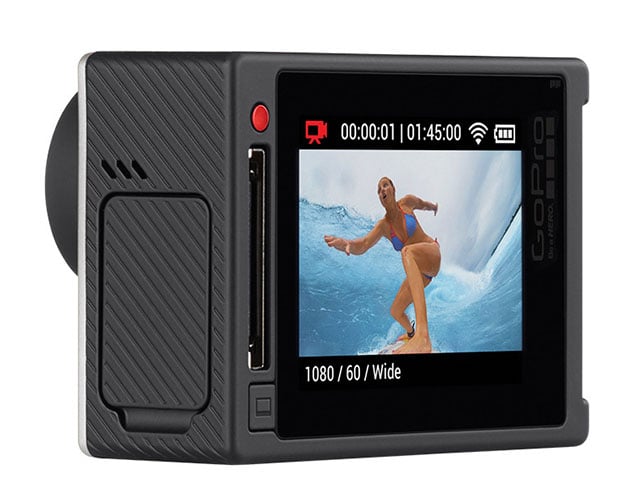 On the video side, the Silver will be able to capture 4K at 15fps, 2.7K at 30fps, 1440p at 48fps, 1080p at 60fps, 960p at 100fps, and 720p at 120fps. [Update: These are actually the 'key resolutions'. We've published a complete chart of available resolutions below]
For still photography, the Silver will match the Black with 12 megapixel photos at 30 frames per second.
The other features (e.g. Wi-Fi, Bluetooth, HiLight Tag, QuikCapture, waterproofing) are pretty much the same as the HERO4 Black.
Other Accessories
Other accessories to be announced alongside the HERO4 include: a blackout housing that gives your camera a matte black finish for stealthy and low-glare shooting, a removable battery pack that gives your GoPro more juice, a dual battery charger for juicing two packs simultaneously, a wearable waterproof remote, and a grip that keeps your camera afloat.
Pricing and Availability
We haven't heard anything in terms of pricing and availability, but our source tells us that the official announcement date for the GoPro HERO4 cameras will most likely be October 8th, 2014.
---
Update: Some of you have asked how reliable this information it. It should be 100% accurate, as we were given access to product photos and full spec sheets.
---
Update: We have learned that GoPro will also be announcing an entry-level HERO camera. Here's our major leak on that camera.
---
Update: Whoops. The resolutions and frame rates we published earlier were only a subset of what will be available to users. Here are the full charts:
GoPro HERO4 Black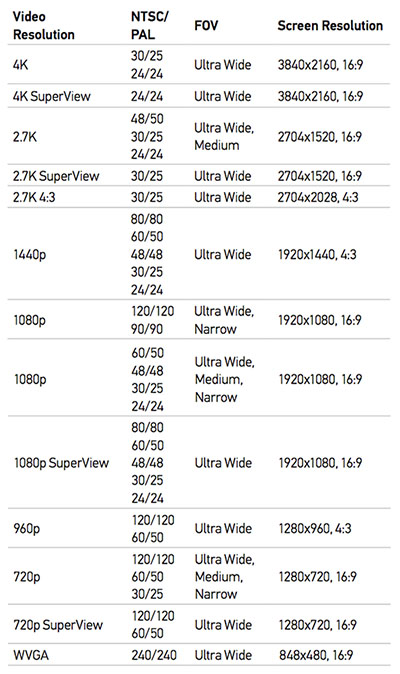 GoPro HERO4 Silver