Canon Reveals 'World's Longest' 4K Cine Lens: A 50-1000mm Monster that Costs $78K
If you've been craving the ability to go from 50mm to 1000mm all in one lens, Canon has just what you're looking for. Announced earlier today, the CINE-SERVO 50–1000mm T5.0–8.9 Ultra-Telephoto Zoom lens is being labeled 'world's longest 4K ultra-telephoto zoom lens for large-format single-sensor cameras," and it comes with a price tag that's as impressive as its zoom range.
This monster of a lens is designed specifically for use with Canon's EOS C-series cameras, but considering it's available in both EF and PL mounts, anyone with a Canon DSLR and deep enough pockets can give it a try.
And 50-1000mm isn't actually as far as it can go. The lens has a built-in 1.5x magnifier, meaning its true range can be pushed to 75–1500mm.
Here's a closer look from all angles: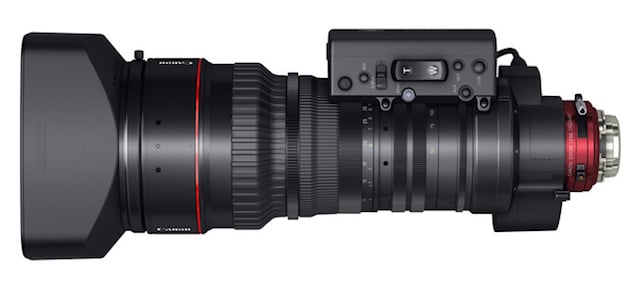 The lens' optics are designed with 4K footage in mind and meant to cover the Super 35mm frame size. Inside it packs an 11-blade iris and removable Digital Drive unit for use with a zoom switch.
The lens is also capable of programming zoom and focus settings, so whether you're wanting a fast or slow rack focus, it can go from full-wide to full-telephoto as fast as 1.5 seconds or as slow as 180.
Which, finally, brings us to that price tag. The lens was announced today, but if you're looking to get your hands on one, you'll be able to pick yours up the first quarter of 2015 in exchange for a whopping $78K.
(via PhotographyBay)