Breaking Gravity: Using a 20-GoPro Array and Red Epic to Shoot Acrobatics in Bullet Time and Slow Mo
Custom-built 20-GoPro array and Red Epic camera in tow, Marc Donahue of PermaGrin Films recently spent some time at San Diego UNITED Training Center to capture breakdancers, parkour athletes and gymnasts performing complex acrobatics in slow motion and bullet time.
The video is called Breaking Gravity, and it was captured using the same rig that Donahue used to shoot this music video early last year. But if the drumming video was a proof of concept, Breaking Gravity takes it to new heights… in this case literally.
The shoot wouldn't have been possible if it wasn't for two things: his Red Bull breakdancer friend Donovan Dresti, and his followers on Instagram.
Dresti was the one who put Donahue in contact with the True Movement crew and set up a shoot at the UNITED Training Center, but it was Instagram that provided the shooting help.
"Not having a regular crew to work with in the area, I decided I would try reaching out to my followers on Instagram for help," he tells us. "To my complete amazement over a dozen hard-working and dedicated people showed up."
Here are a few behind the scenes photos Donahue sent our way: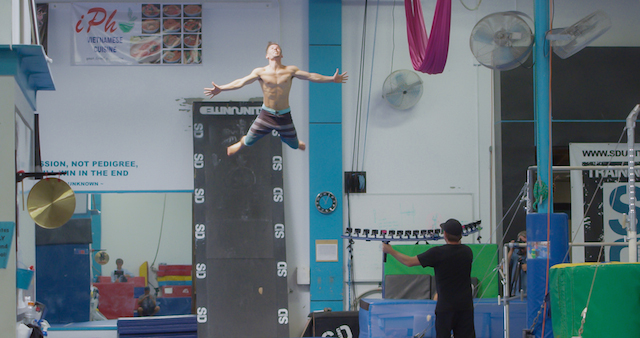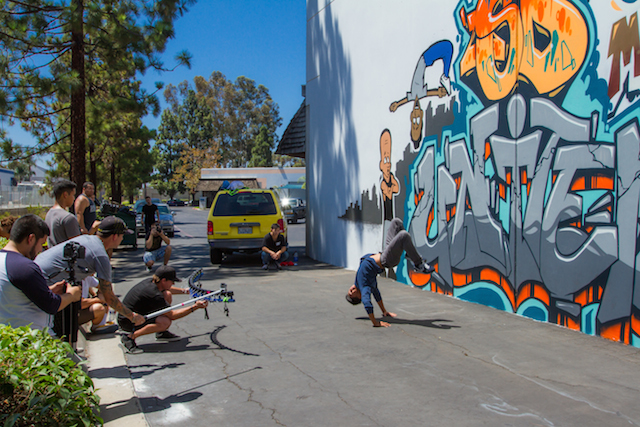 Check out the video at the top to see the final product, and then head over to the PermaGrin Films website to find out more about the man behind the camera array. You can also show PermaGrin some love by following them on Instagram and Facebook.
---
Image credits: Photographs by Marc Donahue/PermaGrin Films and used with permission