The Canon M4 D Mark II: A Tactical Assault Camera That Isn't Good for Street Photography
Say hello to the Canon M4 D Mark II, the assault camera that shoots 10 shots per second and is equipped with a 100-400mm scope. The barrel is able to extend and retract, and offers stabilization features while in use.
This funny little arrangement was created by French photography studio KOEphotography and shared on its Facebook page.

Here's a closer look at the individual components:
This idea may have been inspired by an advertising campaign launched earlier this year by the group Canadian Journalists for Free Expression (CJFE). The ads showed weapons created using journalist equipment, and carried the tagline, "Information is Ammunition":
If you have the necessary pieces for creating your own camera rifle, give it a shot and share your result with us! We'll feature the best ones we receive.
(via KOEPhotography via Reddit)
---
P.S. Here's our "camera gun" that we quickly threw together in a few minutes (pretty bad, we know):
---
Submissions
Here are three different Nikon shooters by photographer Ashlee Bear:
By David Seward: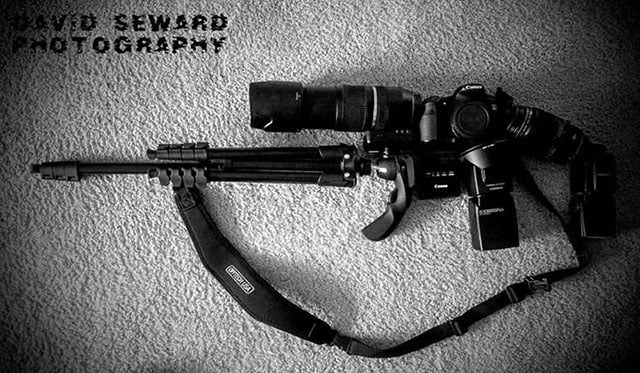 By Jefferson Allan:
---
Image credits: Photograph by KOEPhotography and used with permission, and ad images by CJFE