Review: Sigma's 50mm f/1.4 is Simply Stunning, Stunningly Simple
In a world where there's an always-on march of forward progress driven by the notion that bigger is better, I find it refreshing to see that at least one company is keeping things simple.
Sigma is rumored to be releasing three new primes in the coming months: a 24mm, 85mm and 135mm. These would add to an already amazing set of standard prime lenses for full frame cameras, the superb 35mm f/1.4 and the 50mm f1.4. And it's that 50mm that I've been positively loving for the past month and is our focus today.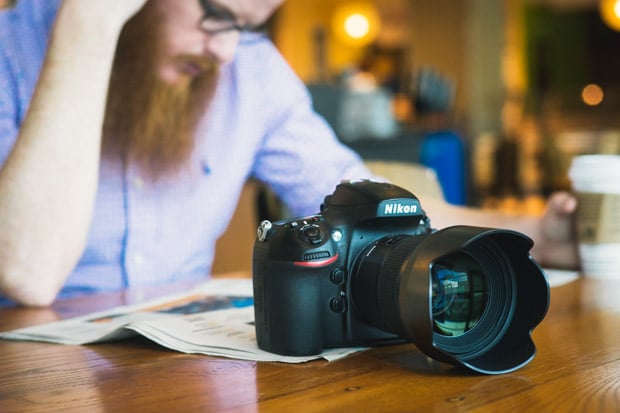 Doing my best to look at very little press of the new 50mm before I received my copy, I went into the review fresh as a daisy — no preconceived notions or lofty expectations to be met or let down.
While I wouldn't claim 50mm as being in my wheelhouse, it dances on the fringe of where I spend a lot of my time framing up photos. The last 50-ish mm lens I have tested was the utterly amazing Zeiss Otus 55mm, a lens that many have been hoping the Sigma at least equals in terms of image quality.
Before we go any further I want to preface the remainder of this review with the following note: Normally, for most reviewers, receiving a loaner copy from the company itself means it's time to put on the white gloves and baby the product till their loaner period is up. I, however do not operate like that, especially when I'm prepared to own the 50mm and don't mind paying for it.
I want to know for sure that when I do own it, it won't break at the first wedding. Gear used for any paid gig will inevitably slam against a rock, doorknob or a child's face. Hopefully the last of those… they're softer.
That being said, maybe the good folks at Sigma who sent me the lens should skip this next bit as we tackle the external look and feel of the lens.
Compared to its 35mm sibling, the new 50 is actually not much larger. This was something I was unprepared for… I think the weight and heft of the much larger Otus had me in a mindset that any new super sharp 50mm is going to be gigantic.
In my go-to shoulder bag (a smallish ThinkTank Retrospective 20) I simply added a little padding and, in a space in which only the Otus 50mm could fit, I had managed to insert both the 35mm and 50mm. Choice without sacrifice is a wonderful thing.
I treated this lens as my own. It spent so much time over my shoulder, there's a bruise on my hip from it bouncing around. Clients don't have time for lens caps and when it was in my bag, it was rarely capped and usually protected not by padding but by Pocketwizards and flashes.
Frankly, it took more bumps than I want to admit… and may or may not of been rained on… twice. But that is life, that is professional working photography and that is what this lens is geared for.
And you know what? It darn well stood up to the abuse — truly, this is a lens I have no issue plunking down $949 for.
At nearly half the price of Nikon's big daddy 58mm standard prime and twice as nice as the rubbish Nikon 50mm f/1.4G, how could you not consider it. I've said it before and I'll say it again: Sigma are doing something special with these Art series lenses.
The feel is on par with the 35mm: The grips are hard rubber and the lens weight is comfortable. On a non-gripped body like the D800 the weighting was wonderful, balanced well and not front heavy. Remove the big plastic hood, tack on a UV filter, and you've got a little less length and size to the overall camera, perfect for staying subtle on the streets.
The lens is solid and while I've described it as comfortable it still has a little bit of heft to it, as is to be expected with any f/1.4 lens that's packing 13 elements in 8 groups. It barely lighter than the Otus 55mm and at 815g it is almost 3x as heavy as the puny 280g Nikon 50mm 1.4G (2.91x to be precise).
If this is your first professional series lens, you will think it heavy, but if you're seasoned DSLR full frame shooter accustomed to hand holding your gripped body and 70-200 2.8 all day, you'll be thrilled and maybe even consider this a lens you could snugly fit inside your (large) jacket pocket.
I was neither surprised nor impressed that it stood up to my abuse, as I actually expected no less. Had it broken — a lens hood snapped, an element cracked easily or an internal gone askew shifting focus — then I would have been surprised.
I've had almost a dozen Nikon 24-70s and they'll come undone if you stare at them the wrong way, let alone if you drop them down a couple of stairs. Sigma, on the other hand, must have had people such as myself in mind when they used "Thermally Stable Composite (TSC) material" in the construction of this lens.
But the durability and construction of a lens are all but moot if the image quality is sub par, and it's here we begin to see the only signs of the Sigma's imperfection. But are they ever minor.
First things first, we'll deal with sharpness. It has arguably been the most discussed aspect of the 50mm's prospects.
To begin with, I'll answer the question on the mind of most: No it is not as sharp as the Zeiss Otus wide open… it's close, but the Otus takes the cake for overall corner to corner sharpness. The difference is minimal and this disparity truly only exists in the corners and wide open. In the middle at f/1.4 or when stopping down to f/2 there's no discernible difference between the two.
Is being sharp in the corners wide open worth the massive price in difference? No. Not at all. And while I loved manual focusing the Otus, 75% of what I shoot is better served with the auto focus abilities of the Sigma.
The Sigma's distortion is virtually undetectable. And even though Adobe's popular Lightroom has a profile for correcting this, it isn't going to be a problem if you're the kind of person who tends to forget to correct it — you'll rarely notice.
The Sigma doesn't have much in the way of vignetting and it is certainly less than the Otus. When you stop down to f/2 the Sigma's vignetting disappears entirely.
Compared directly to the Nikon 50mm 1.4G, the Sigma is not only sharper but better overall. In my usages it had better contrast and generally speaking, more appealing image quality.
Conclusion
Sigma are nothing if not consistent in the new Art series, a consistency that has me very excited and confident in any of the other rumored lenses coming down the pipe.
This 50mm just about has it all. It focuses very quickly and is deadly accurate, the bokeh is creamy, comatic aberration or even ghosting are a non-factor and the contrast is near perfect. There really is very little to complain about. The little coma you'll see is fixable in post, if you ever notice it (and care).
But here's a thought.
The only crappy thing about this lens is deciding whether or not to buy it. If you shoot 50mm at all and you're in the market, buy. Simple. But if you're like me and tend to shoot wider or tighter, I think I'm going to wait for the Sigma 85mm.
The fear for me was that Sigma's 35mm was an aberration — a one hit wonder. But this amazing 50mm is proof that Sigma's new lens line is anything but a one-off stroke of genius.