Deceptively Beautiful Food Photos Feature Meals Made of LEGO, Sponges, Shaving Cream and More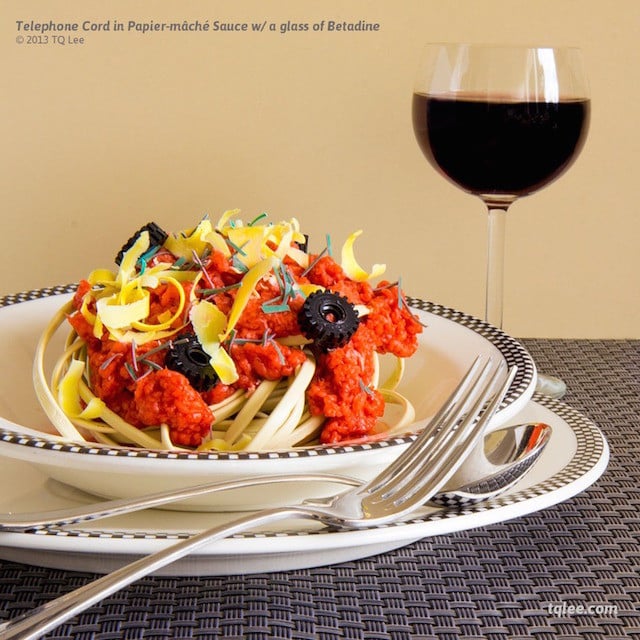 Second to actual food, there's nothing more appetizing than feasting your eyes on some beautiful food photography. Perfectly-crafted meals with just the right amount of sauce and the perfect garnish all contribute to the mouth-watering photography we come across.
This series from Australian photographer T.Q. Lee, however, is going to require a second look. Because if you look closely, you'll quickly realize that these are not the kinds of meals you want to sink your teeth into.
The series is titled Inedible, and Lee calls it, "both a fun visual pun and a comment on the artificial nature of convenience food."
The photos take a look at the humorous cultural trend of photographing the food we eat. "There certainly appears to be a growing objectification even fetishism surrounding food," said Lee. "The idea of shooting before you eat has become almost a custom."
As delicious as these meals may look though, they're not cuisines you're going to want to dive into unless you have strong teeth and a stronger stomach. Lego, sponges, turpentine, shaving cream, and even Lee's own urine are just a few of the ingredients behind these inedible at best, poisonous at worst, food photographs:
To follow Lee and his work, you can head on over to his website, which he has "set up as a stream of consciousness dialogue with people who view my work online in an effort to convey my perspective of life, my loves and the quiet beauty that surrounds us."
So whether you'd like to say hello, critique his work or reach out to him for another reason, head on over and start a dialogue with Lee.
(via Mashable)
---
Image credits: Photographs by T.Q. Lee and used with permission