These Photos Show the Secret Tricks of Food Photography
Food photographers have all kinds of tricks they use to make food — or what appears to be food — look appealing on camera. Those tricks are revealed in a new photo project titled Faking It.

Created by art director
Sandy Suffield
, photographer
Dan Matthews
, and food stylist
Jack Sargeson
, the series contains food photos that show the secrets of food photos.
Each image shows a behind-the-scenes video of a food photography shoot. In one section is the delicious-looking food, arranged beautifully on a nice backdrop for its photo op. Look to the side, and you'll see the strange and inedible things that are being used to create an appealing look.
Fake champagne is created with water, soy sauce, and Alka Seltzer for the bubbles. Food is propped up using blue plastic pieces.
Ice cream, often photographed using mashed potatoes, was created using lard, powdered sugar, and food coloring.
The bloom, or dusty look, on grapes is added using talcum powder. Everything is held together in a desired form using toothpicks and fishing wire.
Cake is decorated with spray paint, and the cream is actually shaving cream (it doesn't melt as quickly under studio lights).
Motor oil was used to make meat shiny, and shoe polish is added to darken meat that looks too red. Hairspray was used to make the carrots look more glossy.
Instead of milk, photographers use PVA glue. Real milk makes food soggy.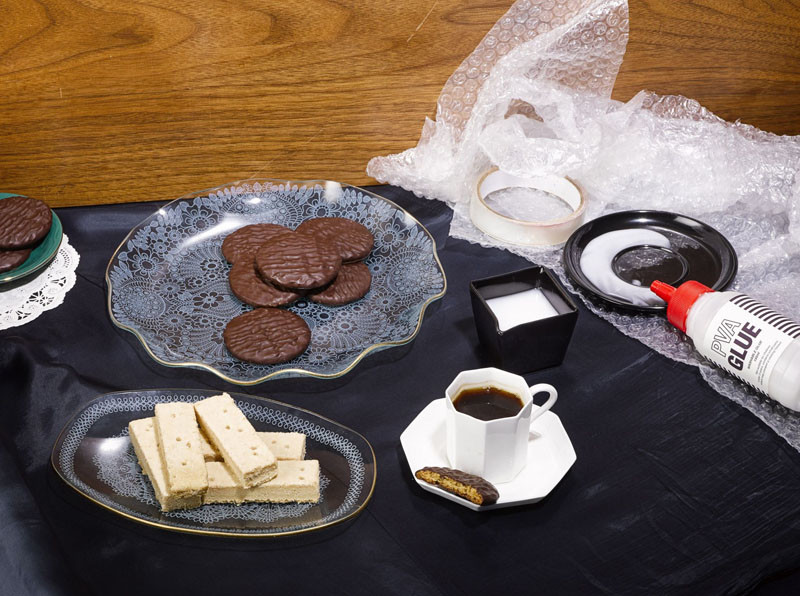 Back in 2012, we shared a lengthy list of random inedible things you can use to make food photos look more appealing.
(via Sandy Suffield via NPR)
---
Image credits: Photographs by Sandy Suffield/Dan Matthews/Jack Sargeson and used with permission