Photographer Sheds a Beautiful New Light on Famous Landmarks with Gorgeous Infrared Images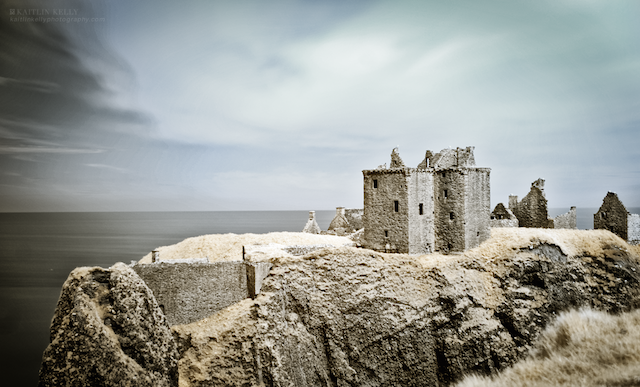 How do you put a fresh spin on landmarks that have been photographed ad nauseam? Well, great composition and an understanding of light certainly helps, but if you're photographer Kaitlin Kelly, you also add infrared photography into the mix and take the photos to a whole new level.
We've not run across many photographers as dedicated to the niche of infrared photography as Kelly is, and a quick look through her IR portfolio makes it obvious that nearly a decade of experience is going into these shots.
Her photographs of well-known landmarks only drive this point home further; we've seen plenty of shots of Yellowstone Canyon… but not many (if any) that look like this:
We recently caught up with the Los Angeles-based photographer to ask permission and a few questions, and her answers were so thorough we decided to include the whole short 'interview' instead of trying to pick out bits and pieces. We hope you enjoy.
PetaPixel: Can you tell us a little bit about yourself?
Kaitlin Kelly: I'm Kaitlin. I'm a photographer from outside of Seattle living in Los Angeles, where I also work as a television writer. I graduated from NYU's Tisch School of the Arts in 2012 from their film department, and since moving to California have been thrilled that writing and freelancing in photography are so compatible! I'm also a downhill ski racer and a competitive archer.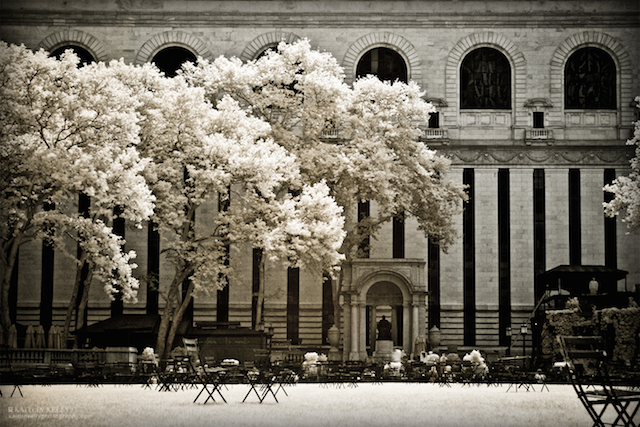 PP: When did you get into infrared photography? How?
KK: I got into infrared photography around 2006, pretty soon after getting into photography in general. I was in high school at this point and was knee-deep in teaching myself the basics. One day I came across some infrared work and absolutely fell in love, but at that point nobody had really gotten into writing tutorials about it, so I literally just bought a Hora R72 filter, said "screw it," and started experimenting.
I eventually found a photographer online willing to answer a few of my questions and put me in the right direction, and after that, it was purely experimentation and constant practice. I went through a lot of garbage infrared photos before doing what I do now.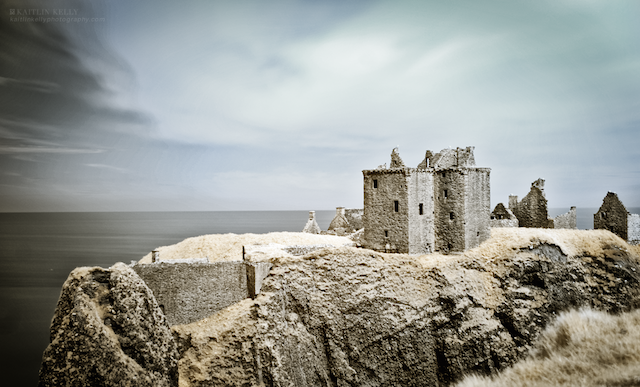 PP: Why does infrared appeal to you so much?
KK: My dad worked abroad and I'd spend summer traveling with him. We'd go to these major locations and I'd get so annoyed; I wanted to take pictures of the Eiffel Tower, the London Eye, but I wanted them to be different than everybody else's… and then I realized, wait, I have a skill that most people don't. I made the decision to exploit this beautiful spectrum of invisible light to transform landmarks from something familiar to something alien.
Blocking out sunlight to reveal a different view? Very rad.
PP: You already mentioned the Hora R72 filter. What other gear do you use?
KK: A Hoya R72 filter and a tripod are absolutely essential. I've always shot Nikon; I started doing infrared on the Nikon D70, then the D200, then the D300s and now the D610. A cable release is also really integral, because often times I'm doing exposures of over 30 seconds and need that Bulb mode.
In terms of glass, I use manual lenses that I buy used. Glazer's in Seattle has an amazing used lens section and I always find gold there.
PP: What about post-processing? That's pretty involved with IR photography, right?
KK: Definitely, the post-processing workflow for infrared is kind of intense. The images don't come out of the camera looking snowy and clean; taken off the camera, they're sort of a dingy blue and the foliage is a dull copper.
I always shoot in RAW, so I do minor adjustments to clarity/exposure there. The major component of making sure infrared looks like what it's "supposed" to is swapping the red channel and the blue channel. Then it's a matter of desaturating any remaining red tones. Nowadays I throw the PSD into Lightroom and work with some of their aged presets; they give a really clean, pure look to the photos I love.
If anybody wants more information, I wrote an infrared tutorial over at Frogman's Light School on Tumblr where I'm a contributor, which explains it in more depth.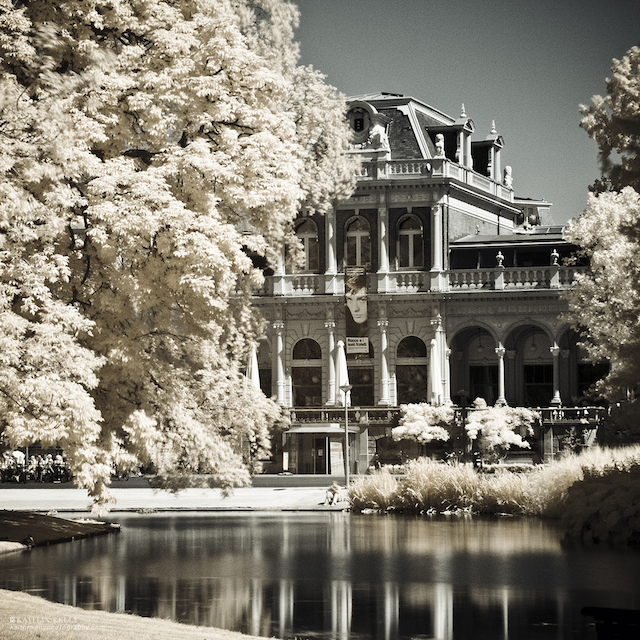 PP: What challenges does infrared photography present that surprised you at first? Are they still giving you issues now?
KK: Oh my goodness. People, by far, are the biggest problem. When you're outside the Eiffel Tower in July at the height of the season, people will not leave you alone.
I'd had another shot I really wanted to do that ended up failing because people would run up in front of my camera and wouldn't leave. It's a total bummer when that happens. I speak French so at least in France I could communicate with people and ask them to move and leave me alone, but in other places? Meh.
Scotland is great for infrared because even touristy, it's much less busy. Vienna was the most difficult. I wanted to do a shot of the Schonbrun but there were too many curious people.
PP: Any final tidbits or experiences or stories you'd like to share with our readers?
KK: So this last summer I went to Germany, and I got to shoot Neuschwanstein castle, which I'm pretty sure is the most photographed spot in Europe at this point. It fit perfectly into my self-imposed challenge. I got there and get up to the castle… and all there is this rickety footbridge packed with tourists.
I shouldered in a spot and set up my tripod but there was no way with all of the foot traffic I'd be able to shoot a long enough exposure without a ton of shaking. So my boyfriend and I packed up my gear and we hiked up this trail that went up to the right of the bridge where nobody was going, hoping we'd find a good, stable spot. Eventually we reached a point where the trail had been blocked off for being a little dangerous, but I could tell it'd be the perfect place… so we hopped the blockade and picked our way across it It truly was the most amazing vantage point, and I was able to get exactly what I wanted.
Moral of the story is: sometimes the best place to shoot isn't the most obvious. Other moral: spend your time hiking as a kid so you're prepared to do bad things to get your shot.
To see more of Kelly's work — both infrared and otherwise — be sure to visit her website or give her a follow on Tumblr, Instagram, Flickr and/or 500px.
---
Image credits: Photographs by Kaitlin Kelly and used with permission