Black-and-White Infrared Time-Lapse of Clouds Floating Over Landscapes
Australia-based photographer Glen Ryan has been working on a long-running infrared project called Invisible Landscapes. He recently created the gorgeous time-lapse video above featuring the limestone landscapes near Wee Jasper in New South Wales for an exhibition at the Karst Country exhibition. The black-and-white infrared images make the clouds overhead pop out of the dark sky in the background.

Ryan has been teaming with cloud wrangler James van der Moezel to capture 4K footage. Everything you see above was captured using Red Scarlet and Red Epic cameras, Nikon lenses, infrared filters, and Photoshop CS6. Here's an infrared photo of one of the cameras used to capture the footage: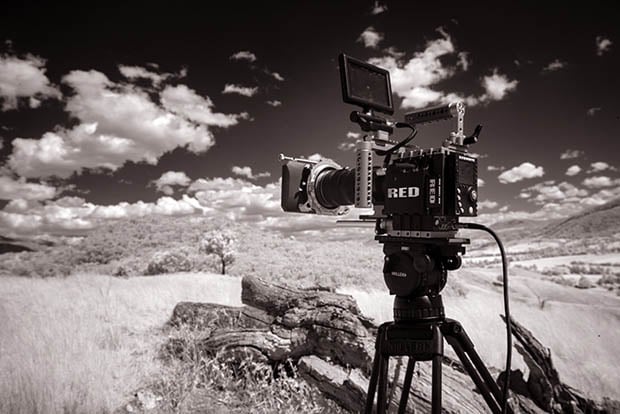 We've written in the past on how photographs will more and more be harvested from uber-high-definition video as digital motion picture cameras become better and better. You can definitely see this in the video above: just turn on HD and view in full screen! Here are a few stills we harvested from the video showing the gorgeous landscape shots:
You can find some behind-the-scenes stills over on Ryan's Tumblr blog. He's also working on releasing a 6-hour-long uncut version of the project soon. You can follow along with his work through his Vimeo account.
(via mashKULTURE)
---
Image credits: Video and stills by Glen Ryan/Phil Ryan