Adobe Officially Working On Aperture to Lightroom Migration Tool, Releases Accompanying Guide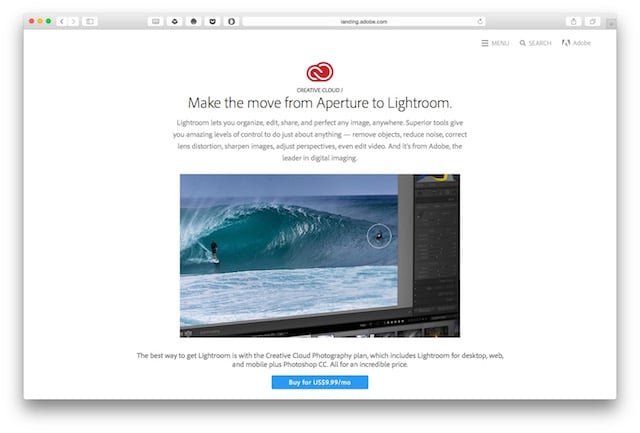 It's been roughly a month since Apple announced it's discontinuing its professional-level photo management and editing software, Aperture. Today, Adobe has officially taken its stance on the situation, making two-and-a-half new announcements.
First, Adobe has created and pushed live a new website going over the advantages Lightroom holds over the soon-to-be extinct Aperture. Subtle hints at Lightroom's superiority over Aperture appear throughout the entire microsite, which is enticing users to subscribe to Adobe's $10/month Creative Cloud plan for photographers. Of course, this plan includes Lightroom for desktop, web, and mobile, as well as Photoshop CC.
The second announcement is a bit two-fold. In addition to the new website Adobe has put up, they've also created a resource in the form of a PDF that is a comprehensive guide to helping Aperture users effectively and efficiently transfer their images into Lightroom. You can check out said guide here.
The second and arguably more major part is that Adobe has indeed confirmed that it's working on software that will bring an automated transition for users switching from Aperture to Lightroom. Specifically, they make the following statements,
At Adobe, we're working on a migration tool to help you bring your photos into Adobe® Photoshop® Lightroom® from Aperture, but if you're eager to switch before the tool is ready, this guide can help ease your transition. We recognize that this migration may be a challenging process and offer the following resources and methodology to help get you up to speed with Lightroom and provide a road map for successfully migrating your photos.

The first challenge is that the terminology, layout, and controls of the two applications are different. It's a good idea to start processing photos in Lightroom and become familiar with it before you migrate your photos from Aperture. You can do so by taking some new photos, importing them into Lightroom, and then using Lightroom.
It was really only a matter of time before Adobe cleared the air as to whether or not an official migration tool was in the works. But, rest assured anxious Aperture abandoners, it's on its way. We'll be sure to let you know when the software gets released.
In the meantime, head on over to Adobe's website and download the guide if you're too impatient to wait on the software.