Lens Rentals Canada Suspends Service Due to Possible Theft While in Possession of Canada Post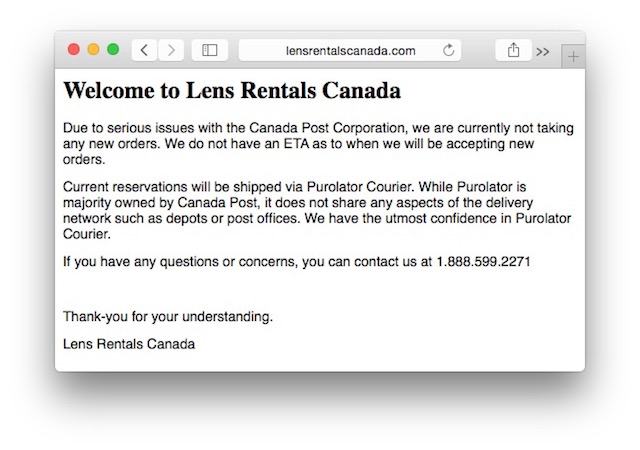 Well, this is awkward. From the looks of it, Lens Rentals Canada is suspending services due to the theft of their equipment while in transit.
Details are scarce, but while it seems as though current reservations will still be sent out and returned, new reservations will not be accepted. Specifically, their website reads:
Due to serious issues with the Canada Post Corporation, we are currently not taking any new orders. We do not have an ETA as to when we will be accepting new orders […] Current reservations will be shipped via Purolator Courier. While Purolator is majority owned by Canada Post, it does not share any aspects of the delivery network such as depots or post offices. We have the utmost confidence in Purolator Courier.
Reddit user irich says they had received an email stating "We are currently halting all shipments with Canada Post as someone at the depot in Mississauga is stealing our boxes," alluding to the fact that this may indeed be the action a rogue employee, rather than an issue with the Canada Post as a whole. However, no confirmation has solidified this bit of information.
Regardless, it's impressive in the worst of ways that Lens Rentals needs to resort to such drastic measures. For my neighbors to the north looking to get your hands on some rental gear, we can only hope this issue is resolved as soon as possible.
(via Reddit)