This is What You Get When You Put a High-End Canon DSLR Kit in an X-Ray Machine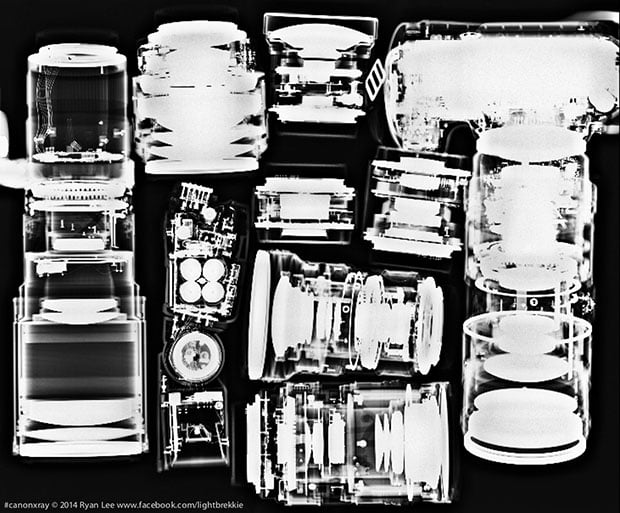 This image shows what you get when you put a high-end Canon DSLR kit under a medical X-Ray machine.

Here's a positive photograph of the same gear laid out in a similar way:
The equipment belongs to Australian photographer Ryan Lee, who tells us that he has always been fascinated with seeing his camera bag go through the security scanners at airports.
Wanting one of those images for his own enjoyment, Lee found someone with access to a medical X-Ray machine (he won't tell us who), and arranged a time to bring his bag in for some imaging.
It turns out that full camera bags don't result in very nice X-Rays (due to overlapping and extra padding), so Lee ended up just laying out his gear neatly for the machine.
Here's a list of gear seen in the image:
Canon EF 400mm f/5.6L with the tripod collar reversed
Canon EF 85mm f/1.2L II
Canon EF 15mm f/2.8 Fisheye
Canon 1.4x Extender III
Canon 2x Extender III
Canon 5D Mark III with battery grip and RRS L-plate
Canon EF 70-200mm f/2.8L IS mounted to the DSLR
Canon 580EX II
Canon 16-35mm f/2.8L II
Canon 24-70mm f/2.8L
In addition to having a nifty digital image of the X-Ray to share online, Lee also received a large A3 X-Ray film to hang up as his personal art:
---
Image credits: Photographs by Ryan Lee and used with permission