Go Behind the Scenes with the Air Force Thunderbirds' Official Photographer
Sergeant Larry Reid Jr. has a job many men and women in the photo world can only dream of having. He's a United States Air Force Photojournalist… more specifically, he's the official photographer for the USAF Thunderbird squad.
The above video, which was put together by Fstoppers' Jaron Schneider, takes an inside look into what Sergeant Reid Jr. does on a day-to-day basis.
Two cameras in hand, Sergeant Reid's work consists of documenting absolutely every detail he can for the Thunderbirds team. From shots of engineers working on the planes, to wide-angle photographs through the canopy of the fighter jets traveling at incredible speeds mere inches from each other, he does it all — and he has one hell of a time doing it.
But just because he enjoys it doesn't mean it's easy. As he explains in the video, there are times where there will only be one opportunity to capture the needed photo. Toss in the fact that he's flying at around 500MPH, being subjected to incredible G-forces and getting jostled around all the while, and you end up with what Sergeant Reid calls "a roller coaster on steroids."
The video comes in at six minutes flat and goes into far greater detail, as does Schneider's article on Fstoppers — both are is definitely worth checking out. We've also included a number of Sergeant Larry Reid Jr.'s photographs below for your viewing pleasure: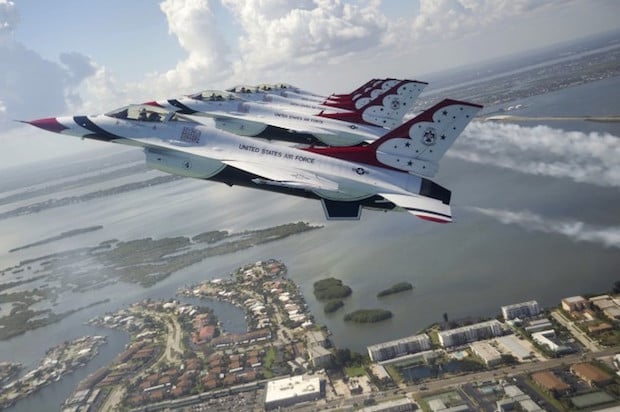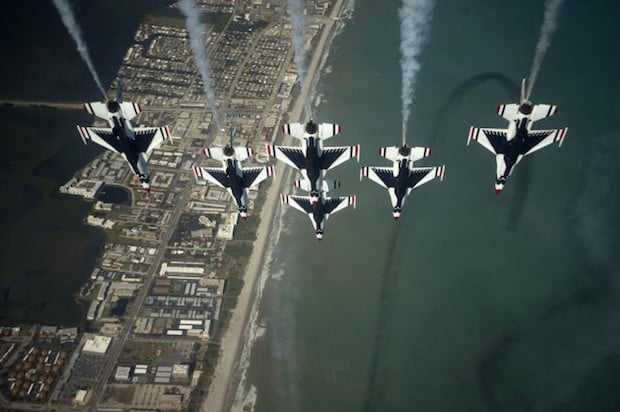 For more images and information, you can head on over to the USAF Thunderbirds website. They also have a presence across most social media, if you'd prefer to give them a follow on Facebook, YouTube and/or Twitter.
What It's Like to Photograph F16s… From Another F16 [Fstoppers]
---
Image credits: Photographs by Sergeant Larry Reid Jr./USAF